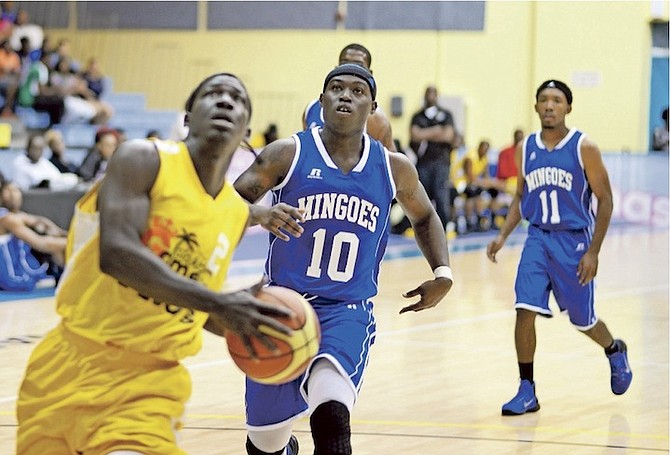 By BRENT STUBBS
Senior Sports Reporter
bstubbs@tribunemedia.net
COACH Baccus Rolle said he knew sooner or later his University of the Bahamas Mingoes would explode against the Island Game Pros. He just didn't know when.
With a large crowd of spectators on hand to cheer them on, including UB President Dr Rodney Smith, along with their cheerleading squad, the Mingoes came from behind in the fourth quarter to clobber the Pros in a successful launch of their athletic programme and their mascot.
The Mingoes came from a 56-53 deficit at the end of the third quarter as they went on to seal a 89-70 rout over the Pros in the New Providence Basketball Association's feature contest at Kendal Isaacs Gym on Saturday night.
The game, carried live on television, was played after Breezes High Flyers routed Triple K Stampers 74-58 and Athletico Bahamas held off the Bargain Wholesale Kings 66-57.
It was a switch in venue from the AF Adderley Gymnasium where a game double header was played on Friday with the Commonwealth Bank Giants pounding the Rhythm Rebels 106-70 and the PJ Stingers knocked of the Double R Cleaners 84-72.
Mingoes 89, Pros 70: The University of the Bahamas used a12-3 run in the first four minutes of the fourth quarter, sparked by Reuben Goodman's spirited play on both ends of the court, including a crowd pleasing steal and one-handed slam dunk, as they took a 65-56 lead they never looked back.
"We knew we had more energy than them, so it was just a matter of us getting our legs under us," coach Rolle said. "Reuben provided the motivational lift that we needed and after he got going, the rest of the team followed him.
"It was a good performance for us, but we knew that they didn't have the legs to run with us. We just kept our composure and managed to wear them down by hitting the outside shots and they weren't able to get past our full court trap defense."
With the lead, the Mingoes continued to apply the pressure with their trap defense that forced the Pros to commit a couple of costly turnovers as the University of the Bahamas' fans went wild when they took advantage, connecting on some big shots.
After falling behind by nine, the Pros got two consecutive three-pointers from Keithlyn Gray to trim the deficit to 65-62 with just over four minutes left.
But the Mingoes went on another scoring spree as Justin Smith, Ramon Dams and Kemsy Sylvester shot the lights out down the stretch to secure the big win as they finished 11-for-44 from behind the three-point arch.
Kemsy Sylvestre, playing about 37 minutes, led the attack with a game high 23 points, shooting 10-for-27 from the field and 4-for-8 from the free throw line. He also had nine rebounds and six steals.
Jason Stubbs had 16 points with five rebounds; Justin Smith finished with 15 points, seven rebounds, five assists and four steals; Ramon Dames had 14 points, nine assists, six steals and five rebounds; Reuben Goodman had five points and Davon Adderley added one of their three-pointers.
For the Pros, who worked the ball inside to control the tempo for the first half, got 23 points on 8-for-17 from the field, 3-for-8 from the three-point line and 4-for-5 from the charity stripe.
Keithlyn Gray helped out with 18 points and 14 rebounds; Judino Wilson had 12 points and nine rebounds and Chico Francis added nine points with 14 rebounds and four assists.
Island Game led 22-16 after the first quarter and 38-32 at the half.
Athetico 66, Kings 57: Cameron Adderley was unstoppable in 32 minutes as he connected on 1—for-23 from the field, 2-for-5 from the three-point line and 4-for-6 from the free throw line to lead his team with a game high 26 points. Adderley also had four rebounds.
Gregory Seymour had 18 points and 15 rebounds and Jamaris King had 12 points and eight rebounds to help out.
Carlos Forbes had 12 points and seven rebounds and Richard Kemp also had 12 points and five rebounds in a losing effort.
High Flyers 74, Stampers 58: Jeremy Neely, playing 21 minutes, was 9-for-15 from the field for his game high 18 points with four rebounds and as many assists to lead Super Club Breezes.
Shanton Pratt was the only other player in double figures with 14 points, four steals, three rebounds and three assists. Enrico Tinker had nine points; DeVontee Gibson had eight points and five rebounds and Travis Stuart had seven points.
Giants 106, Rebels 70: Gibran Smith came off the bench and exploded for 20 points in 29 minutes, shooting 7-for-11 from the field, 4-for-8 from the three-point lin3e and 2-for-2 from the charity stripe and finished with nine rebounds and eight assists and six steals to lead Commonwealth Bank.
Tehran Cox had 18 points, five assists and four rebounds; David Taylor had 26 points and five rebounds; Michael Bain had 16 points, six rebounds and three steals and Karon Pratt also had 15 points with seven assists and four rebounds with two steals.
For Rhythm, who was out-manned with just six players in uniform, got 27 points from Craig Buchanan with eight rebounds, four assists and as many steals in 40 minutes as he connected on 10-for-20 from the field, 3-for-5 from the three-point line and 4-for-5 from the foul line.
Michael Cooper had 16 points and 10 rebounds; Theo Ferguson had 14 points and 10 rebounds and Mekel Rolle added 11 points and six assists.
NOTE: The NPBA action will return to the AF Adderley Gymnasium tonight with another double header on tap. In the opener at 7 pm, the Double R Services Limited Cleaners will take on the Pirates and the UM Mingoes will play the Mail Boat Cybots in the feature contest at 8:30 pm.