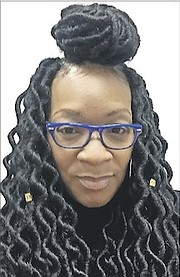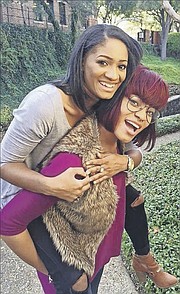 Balancing a career and raising a family alone is challenging but achievable. Jeffarah Gibson hears the encouraging story of one female entrepreneur whose hard work has paid rich dividends . . .
Aqila Knowles has something in common with many Bahamian women - she is a single mother of three who, despite hardships, has managed to accomplish her dreams and live a successful life.
Like many of those women, Ms Knowles has to play the role of breadwinner, caretaker, 'Mr Fix It', counsellor, safety net for her children while also balancing her own life.
Now she hopes her story is a source of encouragement to other single mothers who may be experiencing tough times, ready to throw in the towel or give up on their precious dreams.

Ms Knowles is the proprietor of The Forum Studio, a thriving hair and nail salon in Nassau. The salon offers niche services catering to the crochet market through hair braiding. The Forum Studio caters to clients with natural or transitioning hair types.
"While most of my business comes from crochet braiding, I also do lots of hair weaving and nail care," she told Tribune Woman. "I made my first dream become reality in 2011 when I felt the need to venture into fulfilling one of my childhood dreams of owning a hair and nail spa. I invested lots of my savings knowing it would be a gamble. However, it was one of the proudest days of my life when I opened my doors in May 2011.
As a new entrepreneur Ms Knowles discovered a number of challenges that come with owning a business.

"But the biggest challenge was managing the ladies who I rented work stations to," she said. "My vision for the salon was for every customer who walked through the door to see a salon of excellence, and one that valued the client. However, while that was my dream, it was very difficult selling it to persons who rented from me. After two years of ups and downs with renters, I actually came to my breaking point and realised the amount of stress that came with renting was just not worth it. So in April, 2013, I made the painful decision to close the business for the time being. While it was painful, I knew that some day the business would be brought back to life," she said.
Ms Knowles reopened the business - and it is thriving. But for a single mother, the journey provided difficult moments that brought Ms Knowles to her knees and to tears. However, she was determined to give a better life to her children.
"I have to remember the road that was taken to get here as a single mother so that I encourage other women and single mothers out there who are encountering challenges as the road is never easy. In 1992, I learnt I was pregnant at 17-years-old, and at the age of 18 had a bouncing baby girl who was named Morgann in 1993. Not only did I disappoint my parents and family members, but I disappointed myself. After having the baby, I enrolled into college and worked at a hotel juggling work and school all at the same time. Life as a teenage mother and college student was rough. Two or three semesters into college I dropped out in the middle of the semester and decided to work full-time and take care of my daughter.
Ms Knowles said her parents were again disappointed with her and made it known that if she wanted to attend college she would have to fund herself.
"Four years later I found myself pregnant again and later gave birth to a baby girl that was named Mia. I was now a two-time single mother. However, with the help of my wonderful parents and family members I did my best to raise Morgann and Mia in a loving environment. The girls went to private Christian schools, were taken to church every Sunday and were taught Christian values throughout their years. While I was a single mother doing it all alone, my children always felt loved and that my life was centred on them. However, years of being a single mother, having to figure things out on my own, barely making ends meet, and going from one menial job to the next had begun to weigh me down. Day after day, I would pray, and read my Bible and motivational books. I became desperate for a better life. If there was one thing that I learnt from my parents it was the power of prayer and that things would one day turn around," she said.
As if things could not get any worse, Ms Knowles ended up losing her job. "I was called in on a Saturday to be informed that I would not have a job on Monday. However, when Monday came, I dressed the girls for school, dressed myself as if I was going to work and we jumped in the car as if it was a normal day. While I had no job to go to, I made up in my mind that I would give out 100 resumes that day and that I would find a job that very week because my girls were depending on me. And guess what? I did.
"I began working at what was known then as the Bahamas Electricity Corporation in June of 2000 as a temporary employee. My first day on the job I made a private vow to God that I would work every day as if I was working unto the Lord. God honoured that vow and a year later I was transferred to the Human Resources Department. It was in that department I realised my passion was about to ignite and my life began to turn around when I was placed in the field I was meant to be.

Ms Knowles was encouraged to pursue tertiary education at the College of the Bahamas. After completing a Bachelor's Degree in Business she pursued a Master of Science in Strategic Human Resource Management at the University of Roehampton. Nearing the completion of that, Ms Knowles discovered at 40 she was again pregnant with Noah.

"Believe me when I said I almost died having to tell my parents I was still single yet very much pregnant again out of wedlock. As a young woman, I thought of how I went against practicing what I preached to the young women I've mentored. But like most of my life, after my mistakes, asking God's mercy, and re-evaluating things I got back on track and I began writing my thesis, on the topic "Does the Win-Win labour relations Principle work in Practice?" The relevance of my thesis coincided with my six-year tenure as a union executive at then BEC and the question seeking to determine whether the union and the organisation can work together strategically to build a better organisation," she said.
While Ms Knowles said she has been able to accomplish much in spite of her hardships, in hindsight she would have waited until finishing tertiary education to start having children.
"I think it is very important for women and their partners to plan their families. Even though I was disobedient with doing this I strongly believe that children are to come in marriage. Yet, with the way the family dynamics are changing, many women start off with husbands but find themselves single at some point along the way. So yes, life does not happen the way we envision all the time but it is very important to have plan B ready to go into motion if plan A isn't working so that the person doesn't fold up if they were to find themselves one day left with the children all alone.
"I am hoping that by telling my story single women become encouraged. This story is not a story to make them feel unaccomplished when compared to me, but it is to inspire them to overlook the mistakes, see that they have a bright future, and that even with a child or children, if they have the tenacity to withstand challenges, they too can achieve their goals. My ultimate goal of this story is to provide hope for every woman out there who is seeking positive change.
Ms Knowles' eldest daughter Morgann is 24 and living and working in Dallas, Texas, after obtaining a degree in Business. She is pursuing a Master's Degree in Theology. Her second daughter, Mia, attends the University of the Bahamas and is pursuing a teaching degree.

In their private time Morgann is an avid activist against sex human trafficking, while Mia is being groomed to perfect her talents in the hair and nail industry.
"After going through the storm for 25 years, I am proud to say that today I am still an employee of BPL, a company that I am proud to work for, a former unionist, the proprietor of The Forum Studio, and my latest venture as a part-time college lecturer. But most importantly I never forget my role as a mother to three wonderful children, and a daughter to wonderful supportive parents. With my son as the new addition to the family, he will be reared in a solid foundation.

She hopes that other single women will be built up and inspired to keeping going after hearing her story.
"This story is not a story to make them feel unaccomplished when compared to me, but it is to inspire them to overlook the mistakes, see that they have a bright future, and that even with a child or children if they have the tenacity to withstand challenges they too can achieve their goals. My ultimate goal of this story is to provide hope for every woman out there who is seeking positive change," she told Tribune Woman.
• jgibson@tribunemedia.net