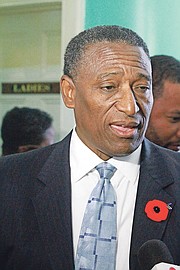 By AVA TURNQUEST
Tribune Chief Reporter
aturnquest@tribunemedia.net
THE mysterious deaths of seven "swimming pigs" in Exuma that has captured the attention of activists around the world, may soon be solved, according to Agriculture Minister V Alfred Gray.
Mr Gray confirmed yesterday that tests ordered on blood samples have been returned, and that he expects to release the report after consultation with the government's veterinarian.
"I have it," he told reporters outside the Office of the Prime Minister yesterday.
"I intend to call a press conference and speak to it. I think the initial results show the pigs ingested sands and that clogged their stomach.
"It's a whole combination of things and we are not in the business of speculating. I want to have conclusive evidence that I can rely on and take actions to prevent any reoccurrence of that situation."
The Bahamas Humane Society has called for the release of all autopsies performed on the seven swimming pigs that died.
BHS President Kim Aranha told The Tribune that the longer the cause of death is kept a "secret" the more people will speculate that something nefarious was done to the animals.
Mr Gray said yesterday: "The swimming pigs are in the main all alive except for (seven) of them that died. A veterinarian was sent by my ministry to test blood samples and do an autopsy on one or two of the pigs. The autopsy initially revealed that the pigs ingested sand together with food things.
"People throw things on the sand and while they eat the food, they also eat the sand. Over time, their stomachs became full of sand because the other things will pass out but the sand will not, and so the initial conclusion is that they may have died from the indigestion of sand."
He added: "The lab has tested the samples which were sent and we have just received the results. I will make the results public as soon as the veterinarian sends the results to me."