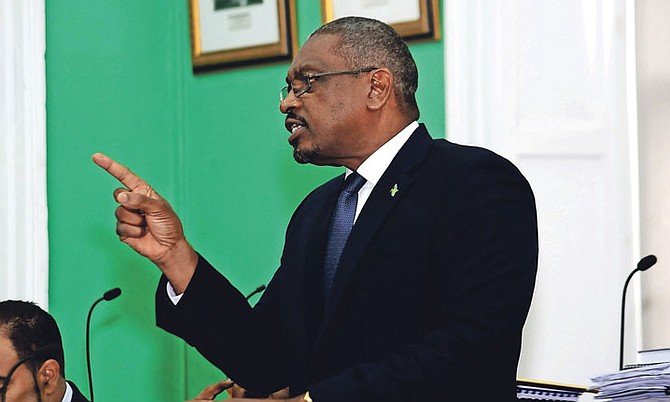 By KHRISNA VIRGIL
Deputy Chief Reporter
kvirgil@tribunemedia.net
FREE National Movement Leader Dr Hubert Minnis questioned the "wasted money" paid to Renew Bahamas, the company previously contracted to manage the New Providence Landfill, insisting that this and other expenditure under the Christie administration will be investigated should the FNM be elected to office.
Speaking to scores of supporters last night, Dr Minnis accused Prime Minister Perry Christie of pretending that his administration bears no responsibility for the disaster at the city dump.
Dr Minnis said Mr Christie should take his "trash talk" about seriously addressing the problems at the landfill and "empty it at the dump."
Renew Bahamas was engaged by the government in 2014 to manage the landfill and help address the matter of recurring fires, however the company ended its services in the aftermath of Hurricane Matthew. Dump fires were a persistent problem under Renew's management.
"The same man, who stuck up his middle finger at the Bahamian people, is now going around pretending that his government bears no responsibility for the disaster at the dump," Dr Minnis said during his party's ratification of its final slate of candidates before the 2017 general election.
"Christie is now pretending that the dump problem is something relatively new. He is conveniently forgetting that his government gave a contract to a crony company to manage the landfill. The company was another PLP failure and another disaster. They are the masters of disasters. The company got plenty money from the government; another example of waste.
"I don't only want to know where the value added tax (VAT) money gone. I want to know about all the waste of government money, from VAT, from customs duties, from Road Traffic fees, and from everywhere else. Where all the money gone?
"After coming to office, the FNM will expose the waste and the corruption, including the waste of VAT money," Dr Minnis said.
The Killarney MP also pledged that a government led by the FNM would provide the resources, funds, material and management needed to modernise waste management in New Providence.
"Christie will talk about it," Dr Minnis said. "I will get it done. Let me tell you something about emperor Perry Gladstone Christie. Whenever there's a crisis or a problem, he rushes to the scene of the problem, offering big talk and grand gestures.
"Then the next day or so he goes on television or radio to make a big display about how's he's going to address the problem. Well you know what usually happens next. Absolutely nothing," Dr Minnis said.