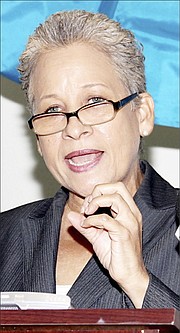 By NICO SCAVELLA
Tribune Staff Reporter
nscavella@tribunemedia.net
TRANSPORT and Aviation Minister Glenys Hanna Martin yesterday hit back at the most recent US State Department's advisory against jet ski operators, charging that if left unchecked, it could overshadow the "significant progress" her ministry has made to address the issues within the industry.
Mrs Hanna Martin, in an interview with The Tribune, said while she is "very concerned" about the advisory regarding the local water sports industry, there must be a "focused attention" on the "groundwork" that has been "covered to seek to enhance the environment" for visitors.
She also charged that there is currently a "very strong collaboration" between the Royal Bahamas Police Force (RBPF), the Royal Bahamas Defence Force (RBDF), and the Port Authority in bringing about a "more expansive surveillance" of the areas in which jet ski operators work.
The Englerston MP was responding to a recent warning by the US Overseas Security Advisory Council (OSAC), cautioning US citizens travelling to The Bahamas for spring break to "avoid jet ski operators" because these individuals "continue to commit sexual assaults and other crimes against tourists, including US citizens".
The OSAC also cautioned US Embassy personnel not to use jet ski rentals on New Providence and Paradise Island, including Cabbage Beach and Cable Beach. The department also "strongly" recommended they "avoid patronising jet ski rental operations."
The department also warned against visitors travelling alone with water sports, taxi and scooter operators.
The advisory has gained traction internationally, having been cited in a Miami New Times article published on Friday.
However, there have been no local or official police reports of late that would coincide with the US State Department's warning.
"It's a viewpoint of the American embassy in the Bahamas, so, of course I'm concerned when a viewpoint is expressed in that way and put out internationally," Mrs Hanna Martin said when contacted on Sunday. "I'm very concerned about that. However though, I have to bring a focused attention in my own country to our efforts that are underway to enhance the industry."
Mrs Hanna Martin further charged that over the past year and a half or more, significant progress has been made regarding the oversight of the beaches from which Jet ski operators operate, such as increased signage to direct visitors where to go to patronise legitimate jet ski operators and not "random" ones, and "centralised transactions" that are overseen by the Port Authority.
She also said uniforms for jet ski operators have been implemented, and that these operators must go through an "enhanced" vetting process from the Security Intelligence Branch (SIB) of the RBPF before receiving a license to operate.
"Every license holder is subject to vetting by the Security Intelligence Branch of the Royal Bahamas Police Force," she said. "That's everyone. You cannot be licensed unless you have clearance through SIB. We've gone with we think the highest form of vetting that's available which is the Security Intelligence Branch of the police. They do vetting throughout The Bahamas in sensitive areas and they also assist us in this industry."
Mrs Hanna Martin also said water sports operators are "on board" with the government's attempts to better manage the industry.
"The operators assigned or elected from amongst their body of owners and operators leadership that would bring about the sort of leadership and the self regulation," she said. "So on that level, you have those individuals who have been elected from their body who will seek to from that level, ensure compliance. They meet from time to time with the port leadership.
"Then you have the port controller and the port enforcement officers which enforce the water sports legislation. You have the (RBPF) which carries out law enforcement in general and the (RBDF) which deals with on the seaside. So the operators are on board. There have been multiple meetings at seeking to arrive at a consensus on what should happen out there.
"And it was out of that collaboration that we saw things like signage, like uniforms, like designated identification badges."
Last year, 29-year-old Kevin Romer, a jet ski operator, was remanded to prison without bail after being charged with the alleged sexual assault of a 24-year-old woman on Athol Island sometime on Saturday, January 2, 2016.
As a result of that incident, the United States Embassy in Nassau "prohibited" its employees from using Jet Ski rentals in Nassau, saying the industry is "minimally regulated".
In December 2015, police arrested a jet ski operator in connection with an alleged sexual assault of a female visitor. That incident allegedly took place at Cabbage Beach.
Last January, US Charge d'Affaires Lisa Johnson regretted how, despite persistent complaints from American officials over the past few years, the water-sports industry in The Bahamas has not been properly regulated.