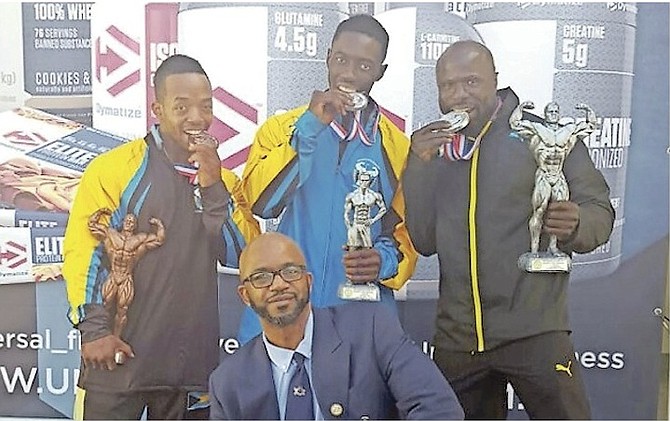 By BRENT STUBBS
Senior Sports Reporter
bstubbs@tribunemedia.net
A three-man team of Jimmy Norius, Paul Wilson and Alberto Armbrister returned from the International Federation of Bodybuilding and Fitness Diamond Cup Caribe in the Dominican Republic on Monday with three medals.
The trio was accompanied to the Dominican Republic over the weekend by coach/judge Wellington Sears.
Norius, the veteran of the crew, led by example as he captured the silver medal in the men's bodybuilding up to 80 kilograms. Patrick Coicou of Haiti beat him out for the gold. Seven competitors participated in the category.
Jean Laventure Spely, also from Haiti, picked up the bronze.
Armbrister, one of seven competitors in the men's physique up to 178 CM, got a silver medal. Ronald Diaz of the Dominican Republic won the gold and Rodrigo Oscos of Mexico got the bronze.
And Wilson, competing against four other competitors, picked up the bronze in the men's bodybuilding up to 70 KG.
Hemradj Mulai of Aruba won the gold and Rafaelin Maria Mora from the Dominican Republic got the silver.
"The Bahamas did so well. It was such a success," said Norius in a brief interview with The Tribune from the Dominican Republic. "We had three competitors representing the Bahamas and we all won medals."
It was the second competition for Norius, who competed in the Joe Weilder's Mr Olympia Amateur South America in February in Medellin, Colombia.
During that competition, Norius moved into the physique segment where he placed fifth. He noted at the time that he just wanted to test out his versatility in the sport.
Bahamas Bodybuilding and Fitness Federation president Joel Stubbs complimented the team on their performances and indicated that it's just a glimpse of what to expect in the future.
"I am very pleased with the gutsy, yet last-minute performance," Stubbs said. "These athletes muscled up enough stamina and energy to represent our country and they represented with excellence.
"Our talents speak for themselves in this federation. We just need the sponsorship, support and the opportunity to display our craft."
Stubbs said the bodybuilders are now looking at competing in the Florida Grand Prix on May 6 in West Palm Beach and the Southern States Championship on July 7 before they prepare for the federation's National Bodybuilding and Fitness Championships.
The federation will host the Nationals on July 29 in New Providence at a venue yet to be determined. From the Nationals, the federation will select the team that will represent the Bahamas at the Central American and Caribbean Championships, set for September 8 to October 1 in Mexico.