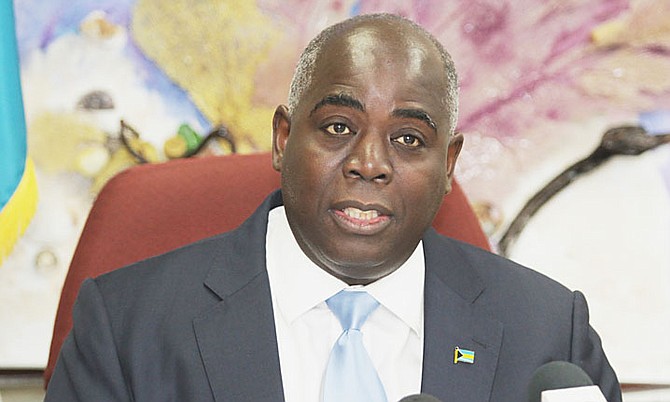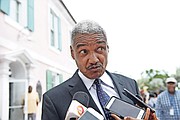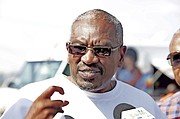 DEPUTY Prime Minister Philip Davis lashed out at Dr Hubert Minnis' pledge to "execute a real sale" of Baha Mar should the Free National Movement (FNM) win the next election, accusing him of plotting for the resort's demise for political benefit while spouting untruths.

Tall Pines MP Leslie Miller also took aim at Dr Minnis over the issue, saying while the Killarney MP is his friend, he is "not the smartest man on two legs".
In a statement released to the media last night, Mr Davis said it was unfortunate that the country has come to a point where some would "bet against the interests of their fellow Bahamians to better their own political lot".
He said Dr Minnis "appears to be crossing his fingers and praying" the resort does not open for his own political benefit, despite the thousands of Bahamians who would suffer.
"I understand he thinks his only way to succeed is to tear down any progress we make – to distract from the utter turmoil and startling accusations about Minnis from his own colleagues - but what about the thousands of Bahamians who are training right now for their job at Baha Mar? Bahamians deserve better than someone rooting against their employment to try to score a political point," Mr Davis said.
"The sad part is - he is dead wrong. Baha Mar is now in the safe hands of a world-class operator that is investing hundreds of millions of dollars in its success. Contractors and employees were paid what they were owed. And 650 Bahamians have been hired of the thousands who will be hired as the hotel opens. Those are the facts," he added.

Mr Davis also said Dr Minnis' own colleagues have accused him of not being a man of his word, adding that the Killarney MP, who is "not fit for leadership," is using the Baha Mar issue to try and "salvage" his political career.
"Baha Mar will open and Bahamians will see once and for all that Dr Minnis, despite facts to the contrary, is trying to use this to salvage his political career," Mr Davis said. "But don't just take my word for it - come see for yourself. Right now, 200 casino employees are being trained and the casino equipment is being installed. And Baha Mar continues to hire – and is well on its way to hire 1,500 employees by April 21. World-renowned hotel chain Rosewood has increased its investment by $35 million dollars, and CTF is increasing its capital, marketing, and pre-opening investment from $200 million to $250 million. Those are the facts," Mr Davis said.
Yesterday Mr Miller also chimed in on the issue.
The Tall Pines MP asked: "How do you take back private property? Dr Minnis' head can't be no good. How you going to sell what don't belong to you?
"Dr Minnis has to stop, I know it's political season, but he has to stop with these false promises. He is my jack but isn't the smartest man on two legs. I never said he was intelligent you know, I said he was my friend."
On Sunday, in a statement posted to his Facebook page, Dr Minnis said his party would "engage and execute a real sale of Baha Mar to a qualified and respectable purchaser who believes in Bahamians; a purchaser who will utilise only Bahamian labour to complete the resort, and will put Bahamians back to work with real jobs as quickly as possible."
Yesterday he added that if the Baha Mar deal does not stand up to public scrutiny, his party reserves the right "to not approve any sale that is not in the best interest of the Bahamian people."
"Prime Minister Christie has been put on notice to make their phantom sale agreement public along with any terms and concessions given," Dr Minnis posted on Monday.
"The FNM also calls on the prime minister to make public any heads of agreement that is to be signed with CFTE by tabling it in the House of Assembly before Parliament is dissolved."
Prime Minister Perry Christie announced the official sale of Baha Mar to CTF BM Holdings, a subsidiary of CTFE last December, at the time stating the resort was set for a phased opening beginning in April 2017, and a full completion by this fall. It has since been revealed that the sale has not been finalised and that the opening date for the Rosewood hotel brand, owned by the Baha Mar buyer, has been delayed to Spring 2018.