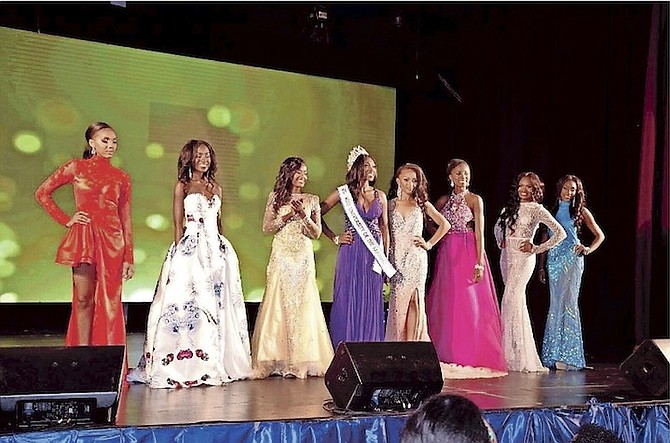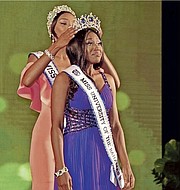 By JEFFARAH GIBSON
Tribune Features Writer
jgibson@tribunemedia.net 
NYISHA Tilus has her heart set on one day entering the Miss World Bahamas pageant. So when she found that the winner of the first Miss University of the Bahamas Leadership pageant is granted automatic entry into Miss World, her decision was made.
And last Thursday the first part of her dream came true as she was crowned the first Miss University of the Bahamas.
Supporters, family, friends and students packed the 400-seat Performing Arts Theatre to watch the historic crowning of the university's first queen.
Nyisha, a 24-year-old psychology major who hails from Abaco, walked the stage gracefully, with tears streaming down her face after she was announced as the winner.
She competed against contestants Pedronique Saunders, Jessika Christophe, Brittany Saunders, Shakala McIntosh, Rotalya Williams, Keaneirha Smith, and Galy Joseph. 
Once her tertiary education is completed, Nyisha hopes to become a clinical child psychologist. 
Throughout the pageant, her platform was focused on mental health awareness, as she believes that people too often focus only on their physical needs without considering their psychological needs.
The subject is of particular importance to Nyisha's because her grandmother suffered with a mental health disorder but refused to get help due to her lack of knowledge. 
Nyisha believes her new Miss University of the Bahamas title and platform will go a long way in promoting and changing the way people view mental health. 
"My mother inspired me to participate in the Miss University of the Bahamas pageant. I was a participant in the Miss Abaco pageant in 2011, and due to certain circumstances she wasn't able to attend any of the events. So when I presented it to her she said, 'Go for it, and I will be there'," Nyisha told Tribune Woman. 
"With the transition from college to university status I wanted to be that individual that embraces the transition and change so that my fellow colleagues can embrace the journey with me. I am still trying to come to grips with it, but it is just a start and I am excited about what the future holds." 
According to Joe Stubbs, director of Student Leadership, the pageant's goal is to provide a positive opportunity for well-rounded young students who aspire to enrich and develop themselves through pageantry. 
The pageant committee plans to promote strong leadership skills and social consciousness among young women; as well as reward academic achievement, encourage self-expression and challenge students to effect positive change at the University of the Bahamas and the world around them with a philanthropic heart.
"There was a pageant held many years ago, but it was never a consistent thing," said Mr Stubbs.
"It wasn't to the point where it was reputable or respected. So when we transitioned to university we started thinking about things that we can do that other universities are doing. We said let's think of things that we can do for students to be engaged. So we this time we decided on a University of the Bahamas pageant. We wanted to make sure it is done right and at a level that when anyone sees that sash know that it is respected."
Initial news of the pageant's launch received heavy criticism from many on social media, Mr Stubbs said. However, he was very encouraged by how successful the showcase was. 
"We were nervous because we got a lot of negative comments on social media. We honestly felt like no one was going to come to this event. But to turn around and see a 400-seat auditorium nearly filled felt really good. It was a breath of fresh air. And (they) were not just family members, but they were students of the university supporting each other," he said.
Prizes for the pageant included tuition and books for one year, full sponsorship to Miss World Bahamas, wardrobe and gym package. 
As it relates to the partnership with Miss World Bahamas, Mr Stubbs said the pageant's committee sought out other organisations that share similar principles with the university.
"We pulled out all three major pageants: Miss World Bahamas, Miss Universe Bahamas and Miss Earth Bahamas. We were looking for the organisation whose values align with our values as a university. Miss World's 'Beauty With a Purpose' really spoke volumes (and was) in keeping with our pageant," he said.
Mr Stubbs also commended Nyisha for her hard work and dedication to the pageant. Training for Miss World Bahamas will commence immediately, he said. 
"There were three ladies that were always on time, never missed a practice, never missed a training or development programme, and Nyisha was always one of them. When we gave critiques, she perfected those critiques. We are humbled and I am excited to work with her. She is like a sponge who takes in everything," he said.