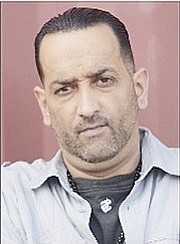 By Inigo 'Naughty' Zenicazelaya
IT'S obvious, after the first wave of NFL Free Agency, that the defending Super Bowl Champions New England Patriots are in win now mode.
We can all see the handwriting on the wall, Tom Brady 5 Super Bowls and all wants to keep playing, 'Father Time' is undefeated!
To this end the Patriot organisation has made some brilliant moves over the first week of free agency, sensing the window may be closing on the Brady era.
Admittedly, the New England Patriots are not known for making the flashiest offseason moves.
Instead, the Patriots are known more for picking players from the scraps of the other 31 teams, or some NFL cast offs working in Home Depot and turning them into valuable role-players.
And that's what makes this offseason so unusual - the Patriots are spending big and going after big-name players whom they wouldn't usually pursue. The Patriots entered this offseason with $60 million in cap space, and it appears they've decided to get their money's worth.
FREE AGENT
SIGNINGS
The Top Prize - Stephon Gilmore CB Buffalo (Pro Bowl)
The Patriots' biggest free-agency signing was a five-year, $63-million deal for former Bills cornerback Stephon Gilmore. While some have questioned Gilmore's status as an elite cornerback - Pro Football Focus gave him a 73.2 grade for 2016, 61st among cornerbacks - he also pulled in five interceptions last year.
The signing of Gilmore may signal the end of Malcolm Butler's career with the Patriots as the two sides have been unable to come to a long-term extension. While Butler was graded higher last season, Gilmore is taller, longer and more physical than Butler, according to Ben Volin of The Boston Globe. It's easy to imagine him thriving with better coaching and culture in New England.
They also signed former Ravens defensive lineman Lawrence Guy to a four-year, $20 million deal, re-signed defender Alan Branch to a two-year deal.
TRADES
The Patriots' other splashy move was trading their 2017 first- and third-round picks to the New Orleans Saints for wide receiver Brandin Cooks.
Bill Belichick has secretly wanted Cooks badly, and had planned on drafting him before the Saints traded up to snag him in 2014.
Cooks is a scary addition to Tom Brady's already extensive arsenal. In 2016, Cooks pulled in 78 catches for over 1,100 yards and eight touchdowns. According to ESPN's Trey Wingo, Cooks has 11 touchdowns on over-30-yard grabs since 2014, behind only Odell Beckham Jr.
With Brady resurrecting his deep ball out of nowhere, the Patriots may be able to stretch the field with Cooks and open up space in the slot for players like Julian Edelman and Danny Amendola.
The Patriots have made a few other moves. They traded for Carolina Panthers defensive end Kony Ealy who, despite a disappointing 2016, was part of the Panthers' Super Bowl run in 2015.
NFL insiders call it a "low-risk, high-value" move for the Patriots, who could cut 25-year-old Ealy if he underperforms.
TOUGH ROAD
TO HOE
It's hard to imagine any team in the AFC currently threatening the Patriots, and perhaps that's why the Patriots seem to be going all-in. Despite Brady's belief that he can play until he's 45, as he prepares to turn 40, the end of his career is getting closer. The Patriots may see the end in sight and feel that while they have the resources available, they should go after big-name players who could help him.
There's work still to be done but, as things stand right now, the NFL should not be excited about how the reigning Super Bowl champs are shaping up on paper. This team is so good on paper right now, I'm convinced they won't have to cheat to win again for a long while.
I hate it when the rich get richer!
• Naughty presents 'Mischief and Mayhem in da AM' from 6am to 10am, Monday to Friday and 'The Press Box' sports talk show on Sunday from 10am to 1pm, on KISS FM 96.1. Comments and questions to naughty@tribunemedia.net