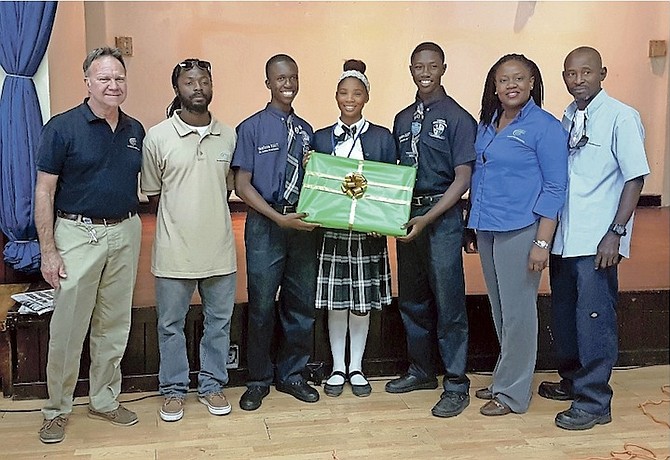 A SEMINAR designed to help students taking biology, chemistry and physics in the Bahamas General Certificate of Secondary Education (BGCSE) exams attracted 150 pupils to C V Bethel Senior High School recently.
Under the theme "Enlightening Minds to Make Sense of Science" the science and technology seminar - sponsored in part by Consolidated Water Co Ltd (CWCO) - saw the students take mock exams to prepare them to get the best results possible. In-house competitions for prizes kept the day fun and challenging.
Bryan Russell, CWCO's General Manager, said the company decided to sponsor the school's seminar because they understand the importance of science and technology in society. "This seminar is a great initiative and we want to continue to support and encourage students in these scientific fields; there are a lot of benefits to being scientifically educated and we want to ensure that students who want to learn more about it are exposed to as much information as possible," he said.
Raquille Sands, a 12th grade student at C V Bethel, said he now feels more confident in his ability to do well in his science BGCSE exams. "The tips I've learned during the seminar have been very helpful as I was able to improve in the areas where I needed it the most in preparation for my BGCSE exams in a few months," he said.
Simeon Farquharson, another graduating student at C V Bethel, said he found the broad aspects of the seminar enlightening, although his major is not science-based. "Even as a business major I found the seminar enlightening and very useful as it also covered aspects of taking the exam correctly regardless of the subject matter; we learned about the point systems, grading scales, how to properly answer questions in different sections of the paper and so much more, so I am now more confident that I am going to pass my biology exam," he said.
Subject Co-ordinator for the Science Department at C V Bethel, Katina Ferguson, thanked CWCO for their donation and said it helped them facilitate their largest seminar to date. She said this was the first year that the school had organised a seminar for so many students and that it was important for them to be trained properly for every aspect of exam taking before sitting them.

"We are so grateful for this donation from Consolidated Water because this seminar is very important to us and our students; it makes a big difference in their exam scores and we definitely want to keep the momentum going to ensure that our students get the best training to help them pass their exams," she said.