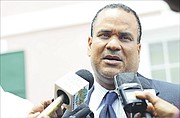 A CAMPAIGN team for Minister of State for Finance Michael Halkitis, the member of Parliament for Golden Isles, clashed with a group of Free National Movement (FNM) supporters who were canvassing the area.
In a video posted to Facebook yesterday, a team of FNM members, including party Leader Dr Hubert Minnis, was seen campaigning in the Golden Isles
constituency when they were taunted by PLP supporters.
Some in the group also verbally attacked Dr Minnis, telling him he could not control his own party so how could he run the country, while shouting obscenities.

The video starts with a group of FNMs walking through the constituency when a truck carrying people clad in yellow shirts emblazoned with Mr Halkitis' face drives past.
"Y'all ain't get no money, go home," one man who was campaigning for Mr Halkitis is heard screaming on the video "We want money."
A member of the FNM then says: "Let the world see how the PLP is provoke people. Ain't no one bothering them, they come bothering us."
The truck then stops and the PLPs, some who waved Halkitis banners, continued shouting at their rivals.
"How much money y'all get? Get y'all ass from round here 'bey,'" one man shouted as the group walked past.
The PLP group also shouted that the FNM members, who were campaigning for candidate Vaughn Miller, did not live in the area.
A member of the FNM team said the walkabout in Golden Isles was advertised, adding that he felt members of the PLP planned to interrupt them.
It was also said on the video that Mr Halkitis was present, however he was not seen in the clip.
The incident did not turn violent.