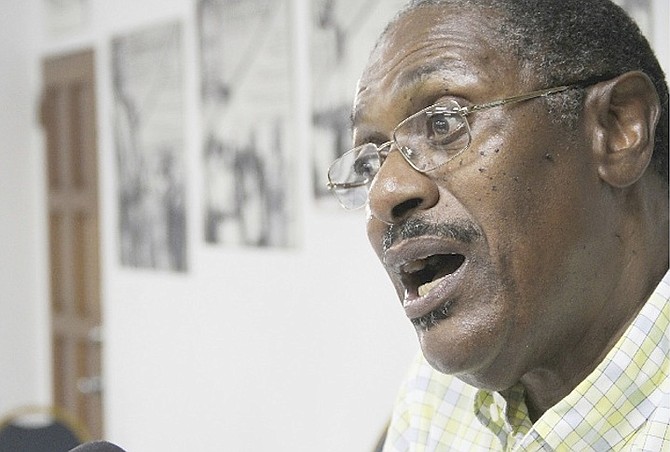 By NICO SCAVELLA
Tribune Staff Reporter
nscavella@tribunemedia.net
PROGRESSIVE Liberal Party (PLP) Chairman Bradley Roberts called for "peace and calm" during this election season, charging that the country's "international reputation" for maintaining "political stability" could be at stake.
Mr Roberts, in a speech to party supporters, candidates and others at the Jubilee Cathedral in Grand Bahama on Friday night, cautioned all political parties to exercise "self-discipline, self-control and restraint" as the country heads into the next general election, adding that "we can disagree without being disagreeable or insulting."
Mr Roberts was referring to a recent altercation between Free National Movement (FNM) supporters and PLP campaigners while both sides were canvassing the Carmichael Road area this week.
Several videos of the altercation were posted on social media and show supporters from both parties heckling each other; however, FNM Chairman Sidney Collie has insisted that it was the PLP's supporters who first engaged his party members.
In one video, a team of FNM members, including party Leader Dr Hubert Minnis, are seen campaigning in the Golden Isles constituency when they were taunted by PLP supporters. Some in the group also verbally attacked Dr Minnis, telling him he could not control his own party so how could he run the country, while shouting obscenities.
In another video, a woman in a FNM shirt is seen shouting obscenities at a PLP supporter, telling the man that Dr Minnis is her "Prime Minister" and Prime Minister Perry Christie does nothing but "sell dreams".
In yet another video, a group of FNMs are seen walking through the constituency when a truck carrying people clad in yellow shirts emblazoned with Mr Halkitis' face drives past.
"Y'all ain't get no money, go home," one man who was campaigning for Mr Halkitis is heard screaming on the video, "we want money".
In a statement posted on social media, Mr Halkitis explained that he was aware that Dr Minnis and his candidate were doing a walkabout in the area, and intentionally led his team of campaigners in another direction.
However, he said, Dr Minnis led his team to the PLP headquarters which led to persons in the FNM "verbally taunting" the PLP supporters. Mr Halkitis ultimately said the blame should be placed "squarely on the shoulders of (Dr Minnis) for provoking the altercation and then playing victim".
"Regardless of who started the verbal sparring between the two camps, there is no room for this kind of behaviour and I wish to publicly caution all campaigns to exercise self-discipline, self-control and restraint during this campaign season," Mr Roberts said in his statement on Friday.

"The Bahamas has an international reputation for political stability and I ask all involved to continue this legacy for the country's sake. We can disagree without being disagreeable or insulting so I call for peace and calm during this election season."
In a statement to the media following the incidentthis week, Mr Collie said the actions of PLP supporters exposed the government's desperation, adding that Bahamians can see "their tactics and activity".
Mr Collie said at the time that he hoped the PLP and "their supporters change their behaviour and begin to try to bring the country together instead of trying to divide it".
"The PLP continues to have only a negative message for the people of The Bahamas. They do not have a record to run on so they have resorted to do nothing but act in a negative manor (sic). Bahamians across our country can see through their tactics and their negativity," Mr Collie said.
"Every person has the right to be politically active. People have the right to support any candidate or party that they choose to and should not have to worry about supporters of other parties verbally assaulting them on the streets.
Mr Collie said: "I know that FNM supporters will continue to show respect to those who do not agree with us and I hope the PLP and their supporters change their behaviour and begin to try to bring the country together instead of trying to divide it."