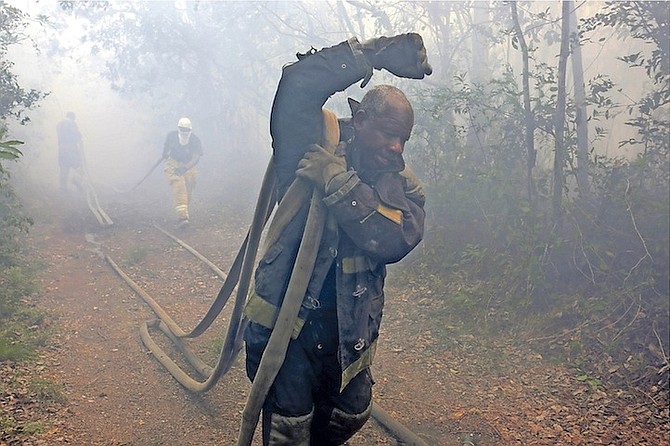 By SANCHESKA DORSETT
Tribune Staff Reporter
sdorsett@tribunemedia.net
FIRE Chief Superintendent Walter Evans has denied that firefighters were battling two massive fires in the capital without protective gear and masks.
Mr Evans told The Tribune each firefighter has been assigned their own "personal protection equipment" and their masks are of the higher quality tech, which is used for smoke for the environment."
His comments came after Heather Carey, the spokeswoman for Raising Awareness about the Bahamas Landfill (RABL), said last week that firefighters do not have the proper gear to battle blazes.
"I've been seeing it for years," she said. "I go out every year to cover these and I've seen pictures and commented that the drivers (of firefighting trucks) don't have any gear. I've addressed it. I was more disappointed this time and upset because I watched them go into the fire, not standing behind the fire line."
Police Staff Association (PSA) Chairman, Inspector Dwight Smith, also told The Tribune that concerned officers reached out to him after seeing photographs of firefighters attempting to extinguish a blaze with no gear and no masks.
"The firefighters are equipped with oxygen tanks and each firefighter has been issued with a face mask, a personal face mask," Supt Evans said on Thursday.
"The equipment is used when officers are working in a heavily concentrated smoke environment and a part of their personal protection equipment is an air tank on the back which is connected to a mask which stops them from breathing in any toxic fumes.
"Now the weight on that is about 45 pounds that the officers must carry on their back and must be able to work with. They have the proper equipment, they have what they need. The officers have thier own personal protection equipment."
Pictures of the men without masks battling through the conditions as ash settled on their bare heads were published by The Tribune last week.
The men carried fire hoses and other tools as they spent hours trying to contain and extinguish the fire that disrupted the lives of Jubilee Gardens residents, damaged properties and renewed questions about the state of the landfill.
Royal Bahamas Defence Force (RBDF) officers appeared to have been better equipped with protective gear than the police firefighters.
Sanigest Internacional, a leading healthcare consultancy and management company in Costa Rica, donated 20 face masks to the firefighters, delivering them to the men late last week.
The landfill fire, which began a week ago, is still burning. Firefighters are also battling another blaze off Carmichael Road on Friday which began the previous afternoon.