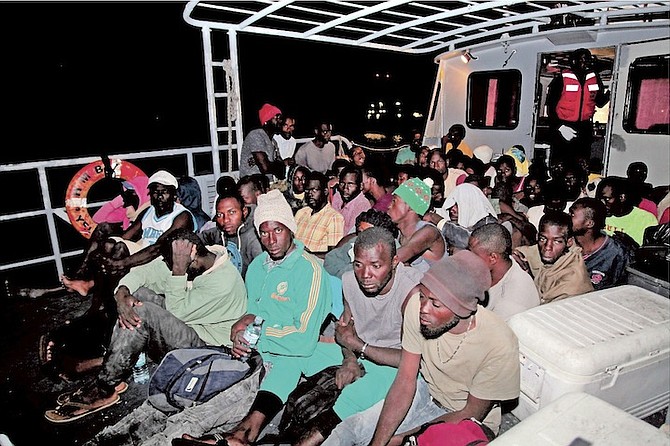 By NICO SCAVELLA 
Tribune Staff Reporter 
nscavella@tribunemedia.net 
OVER 60 suspected Haitian migrants were apprehended in waters just off the Exuma chain on Wednesday evening, according to Royal Bahamas Defence Force officials. 
According to a RBDF statement, patrol craft P-49 under Chief Petty Officer Ross Seymour, apprehended 64 migrants – 54 males and nine females – near the northern end of Ship Channel Cay. 
The migrants were taken to New Providence and handed over to the relevant authorities for further processing, the statement said. 
In March last year, 46 suspected Haitian migrants - 36 men, seven women and three children - were found aboard a wooden vessel that had landed on Farmer's Cay, Exuma, and were subsequently arrested by Exuma police. 
In December, the bodies of four women washed ashore in southern New Providence and dozens of Haitian migrants were picked up by law enforcement after a sloop capsized. 
At the time, RBDF and immigration officials said they received reports that dozens of suspected migrants could be seen attempting to make it to land from a stranded vessel in waters next to the Misty Gardens community.
Once on the scene, RBDF officers intercepted about 42 suspected Haitian migrants at various points throughout the community – 20 in waters near the capsized vessel and the remaining 22 in bushes near the coastline. The group included 29 men and 13 women.