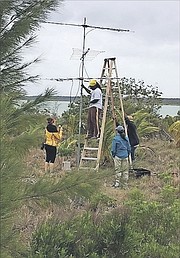 AN ADVANCED wildlife tracking system was installed in Andros recently to monitor the behaviour of migratory birds as part of an international research effort.
The Motus Wildlife Tracking System (Motus is latin for 'movement') uses automated radio telemetry to track animals affixed with radio transmitters.
The project was facilitated by the Bahamas National Trust (BNT) as part of ongoing research into the endangered Piping plover - a shore bird that migrates from North America to the Bahamas and Caribbean in winter.
In recent decades, the plovers' breeding habitat has been replaced with shoreline development. Availability of foraging and roosting habitat in the southern wintering grounds is necessary for an adequate number of adults to survive and migrate back to breeding sites.
In The Bahamas, plovers roost on coastal beaches and wetlands. They have been found in Andros, the Berry Islands, the Joulter Cays, New Providence, the western end of Grand Bahama, Abaco and Warderick Wells in Exuma.
But the global population is estimated at only 8,000 breeding birds. The BNT has been working with experts from the US National Audubon Society, Virginia Tech University and the US Fish and Wildlife Service on a major conservation effort.
The Motus equipment on Andros was donated by the University of Massachusetts, Amherst, and is being hosted at the Kamalame Cay resort near Staniard Creek.
By combining results from many telemetry stations, the Motus array can track animals across a diversity of landscapes covering thousands of kilometres. The ultimate goal is to better understand the connections between breeding, migrating, and wintering locations for threatened bird species in the western hemisphere.
"This project is providing critical new details about the exact breeding and wintering habitats, and migration routes, of birds in the Western Hemisphere," said a BNT spokesperson. "This information will help us identify priority habitats for protection."
In 2012, researchers discovered hundreds of Piping plovers living in the Joulter Cays off the northeastern coast of Andros, where sand mining, overfishing and pollution posed big threats to the local ecology. Further research led to the government's decision to protect the Joulter's 92,000 acres of land and sea in 2015. The area is a critical wintering ground for 12 other shorebird species.
The Motus tracking system will help identify the migration pathways between the plovers' wintering grounds and breeding grounds.
Audubon and the BNT have also trained a number of Bahamians in bird identification and guiding skills so they can guide visitors in the area. Students from the University of The Bahamas have participated in bird surveys and banding opportunities under the BNT's auspices.
The project is supported by the National Audubon Society, Virginia Tech, the US Bureau of Ocean Energy Management, the Disney Conservation Fund, Southern Wings and wildlife agencies in Vermont and North Carolina.