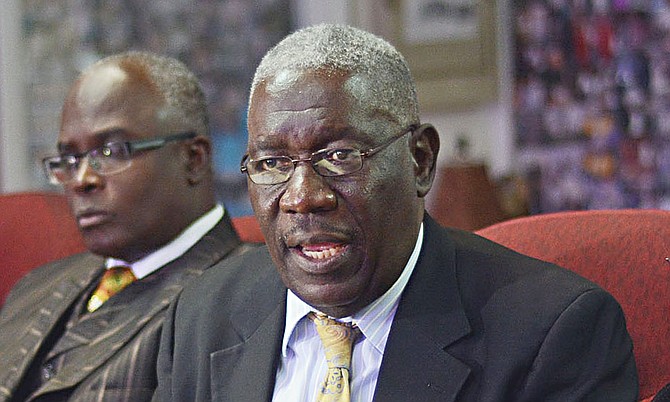 By RICARDO WELLS
Tribune Staff Reporter
rwells@tribunemedia.net
DESPITE calls for "peace and calm" during this election season by Progressive Liberal Party (PLP) Chairman Bradley Roberts last week, the verbal jousting between parties continued over the weekend, prompting one prominent religious leader to renew calls for "level-headed political behaviour".
Bishop Simeon Hall, pastor emeritus of New Covenant Baptist Church, cautioned major political parties over the tense nature of ongoing campaigns, insisting that violence of any kind - verbal or physical - would only offset the years of peaceful political process enjoyed in the Bahamas.
Bishop Hall said it is incumbent on all major political parties to set the tone of levelheaded political behaviour during their campaigning activities, as their actions would direct their respective bases.
These sentiments come days after an altercation between Free National Movement (FNM) supporters and PLP campaigners that took place as both sides were canvassing in the Carmichael Road area early last week.
The incident proved to be the first in a week of contentious statements between the two organisations, with Prime Minister Perry Christie on Thursday seeming to goad FNM Leader Dr Hubert Minnis into a confrontation over Baha Mar.
In his address at a community forum hosted by the PLP, Mr Christie took Dr Minnis to task over being absent from the House of Assembly in the wake of what he termed yet another massive error by the Killarney MP.
Mr Christie went on to dare Dr Minnis to show up to Parliament, asserting that once he does, the FNM leader will have to stand up and face both him and the public on claims made.
At the forum, Mr Christie said: "Even when he decides that he is going to make these statements from long range, he's still making mistakes, and sometimes, big mistakes. He put out some big statements about Baha Mar earlier this week, but he did not show up to defend those statements.
He continued: "I put some information in my back pocket, I know I had to travel for a Customs graduation in Freeport. I say just in case he comes, I wanted to see whether the Speaker would allow me through the argument of relevance to allow me to speak to him about that big mistake he made.
Mr Christie added: "But he knows, he ain't coming to me. He will hide. But we have a couple of more meetings left, and I invite him to come out. I don't want him to duck and hide. Tell him come to Parliament where he could bob and weave; but don't duck and hide. Not if he wants the people of this country to see him as a leader that they can (place) confidence in."
The following day at a rally in Grand Bahama, Dr Minnis dubbed the Prime Minister "Cotton Candy Christie", insinuating that his soft policies have contributed to the second city's economic hardship.
"The Prime Minister was brazen enough," Dr Minnis said, "in Grand Bahama to once again put together a bunch of words saying absolutely nothing. His speeches are like cotton candy: big, beautiful, colourful, sweet but full of air and lacking substance."
Dr Minnis was referring to Mr Christie's statements about a prospective buyer for the Grand Lucayan Resort, which has been on the market for some time. Two-thirds of the hotels on the island are closed and hundreds of hotel workers are unemployed, he said.
"Cotton Candy Christie told you about a conference call that he had with some investors that promised that they are evaluating, considering and contemplating doing some comprehensive things in Grand Bahama. Mr Prime Minister: Just a piece of advice. Your failures now speak so loudly no one is listening to anything you have to say," said Dr Minnis.
Referring to these incidents, Bishop Hall wrote on Saturday: "Violence of any kind - verbal or physical - is a sign of immaturity and speaks volumes as to the kind of nation we wish to build. People must learn to respect the views of others and their right to have such views, even when those views differ from theirs."
He continued: "It was immature election campaigning that birthed that bloody period in 1972 where some persons were senselessly killed and injured during heated exchanges among supporters of different political parties. Some may remember this unfortunate incident as the Perpall Tract Tragedy.
"To seek to hurt another Bahamian because they oppose you politically, is to denigrate the democratic process which makes us what and who we are as a People. I urge all political parties to remind their supporters that such sacred democratic process should build our Bahamaland and not tear us apart."
When contacted for comment yesterday, PLP Chairman Bradley Roberts said while he is "more than okay" with the name calling associated with political campaigning, he believes that if it is unchecked it could incite a serious level of anger.
Mr Roberts, a man who has earned the name "Big Bad Brad" for his strong-handed leadership and attack-style public statements, admitted that there is a fine line between rallying a base and angering opposition forces.
Mr Roberts said: "I should note, one has to be careful with the kinds of rhetoric being used because it could incite some dormant factors in voters. It could get them riled up to a point that it could cause bigger situations. I don't support the physical violence, so I try to be as careful as possible with the way I use my words because when it comes together it can get the people going.
He added: "To know how to play along that line is what is key. That comes with time. I am sure to be careful with my action. How careful are (the other parties) being?"
Campaign efforts have intensified over the last two weeks, as expectations are that a general election could be called within the next six weeks.
There has been no firm indication from the Christie administration on when the next general election will be held, with the Prime Minister suggesting three months ago that a potential date hinged on voter registration numbers.
Those comments came in December, amidst a slow registration period. Over the course of the last six weeks, however, numbers have steadily increased.
As of last week, 138,564 people of an estimated 172,000 eligible voting population have been registered.