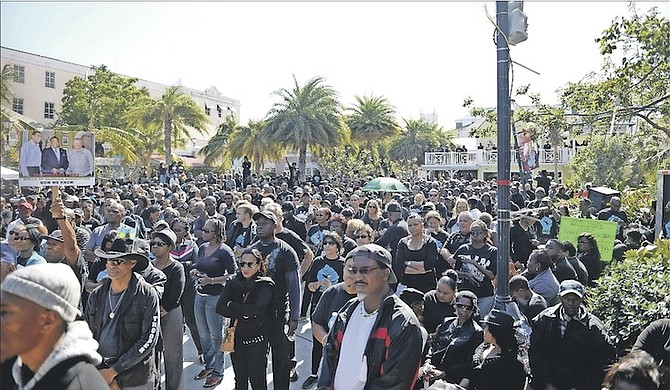 By RICARDO WELLS
Tribune Staff Reporter
rwells@tribunemedia.net
WE March Bahamas yesterday confirmed that its third march will be brought forward by a week, from April 9 to April 2, with ongoing issues facing the New Providence landfill now becoming the focal point of the protest.
Lead organiser Ranard Henfield told The Tribune the decision was made after consultation with members of We March, in conjunction with members of the Raising Awareness of the Bahamas Landfill (RABL).
The group had initially intended to stage its third protest on April 9 to, among other things, demand that an election be called before May 7 and that Bahamas Junkanoo Carnival be postponed.
In a Facebook post, the civic group mentioned the successes of its two previous protests, noting that efforts mounted by the group had averted several major events.
At the conclusion of the post, We March declared, "Now, we march again."
However, Mr Henfield yesterday said that recent meetings with stakeholders have "resulted in some changes".
"April 9 is Palm Sunday. I will be in church as will so many other Bahamians, therefore it was determined that April 2 would be the better date to hold such action. So that is what we are going with. This march will be done in partnership with RABL, a group that brings with it 1,500 to 1,700 supporters; so this should be viewed as a joint effort between the two groups," he added.
On Friday, Mr Henfield posted several images that displayed conditions in Jubilee Gardens, the community most affected by the blaze which occurred more than two weeks ago.
His post read: "How does any government official carry on every day since this dump fire started? These people are being smoked to death."
It continued: "This should have been a national emergency. For starters, that Carnival money should be paying these people's mortgages and their rent at a safe location until this dump smoke is over with. That carnival money should also be taking care of their laundry bills, medical visits and air filters.
"(But) nobody listens to me, I just point things out and march for nothing they say. I'm still going to march on April 2 until they provide housing and cover these people's costs incurred because of the dump fire and smoke."
According to reports, 27 Jubilee Gardens residents were treated at the Flamingo Gardens clinic on March 5 for issues stemming from this fire, with four of those persons needing to be admitted for emergency care at the Princess Margaret Hospital.
The fire ultimately displaced residents of Jubilee Gardens for more than a week, many of whom had to take up lodging with family members and friends.
Earlier in February, We March announced that it planned to stage 12 more "events and protests" throughout The Bahamas before the next general election.
At that time, Mr Henfield, the lead organiser, said the group was still on mission and would continue to "stay focused" despite "the tactics and anger of people that want to resist change".