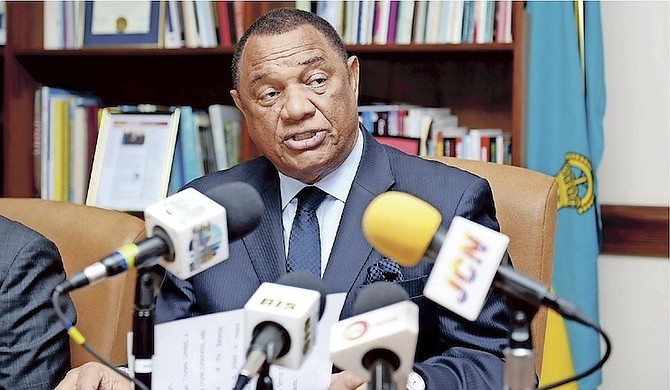 By SANCHESKA DORSETT
Tribune Staff Reporter
sdorsett@tribunemedia.net
HOURS after the bodies of two young teens were found with gunshot wounds to the head, Prime Minister Perry Christie yesterday reflected on the efficacy of his government's anti-crime efforts as he restated his administration's commitment to stopping the "madness that has seemed to grip our country".
Mr Christie told The Tribune the increase in homicides is bigger than the Progressive Liberal Party (PLP), the Free National Movement (FNM) and the Democratic National Alliance (DNA).
He said everyone must come together to save the reputation and integrity of The Bahamas.
"You know that there is something going on and we have to take a holistic approach to it and look at the factors of crime," Mr Christie said. "Look at housing, the environment; all that makes young boys, cynical and bitter and unemployment being the incubator for crime. All these things we look at but at the same time we have to be resolved as a people to understand that we can not allow this to continue," Mr Christie said.
"This is bigger than the FNM. This is bigger than the PLP. This is bigger than the DNA. This is about our country and we must not compromise in our efforts and we must let people know what we are doing to fight crime."
More than 600 people have been killed since the PLP took office in May, 2012, according to The Tribune's records.
Ahead of the 2012 general election, the PLP posted billboards throughout New Providence - in areas heavily trafficked by tourists and locals - which said there had been more than 490 killings under the five-year Ingraham administration.
The PLP, then in opposition, campaigned that it had the answer to violent crime while the Ingraham administration did not. It promised that if elected it would get crime under control.
The latest homicides took place yesterday. According to police reports, the bodies of a 13-year-old and 15-year-old were discovered with gunshot wounds off a dirt road in Yellow Elder Gardens. Police have no motive for the crime.
Mr Christie said: "My government has given over 300 new police officers new equipment and new technology all with a view to improving our capacity to minimise crime but I can tell you we are not afraid to admit that this is difficult and complex issue and we are continuing to deal with it aggressively because we have to for the future of our country and the future security of our county and to the people wanting to come to our country.
"Young men with a complete disregard for their own existence and the existence of others do not have the right to compromise on the reputation and the integrity and the future of our people by what they do and we have to be able to be seen to say and mean it and people know we will take a no-nonsense approach to it. We have to come to grips with this madness that has seemed to grip our country."
Speaking in the House of Assembly last month, Minister of National Security Dr Nottage said that people connected to "gangs, drugs and guns" are linked to the frequent killings.
Dr Nottage also said intelligence has suggested that there are connections between many violent incidents on the streets of New Providence and inmates at the Bahamas Department of Correctional Services and recently released prisoners.
He also maintained that, despite a cumulative murder count in this term that has surpassed the previous Ingraham administration's, under the Christie administration the country was made safer for Bahamians.