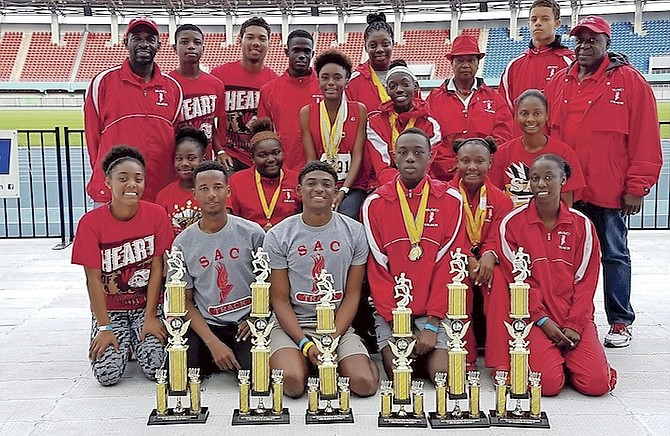 By BRENT STUBBS
Senior Sports Reporter
bstubbs@tribunemedia.net
On the heels of regaining their Bahamas Association of Independent Secondary Schools' championship crown last month, the St Augustine's College Big Red Machine dominated the 28th National High School Track and Field Championships.
While the combined three-day meet hosted by the Ministry of Youth, Sports and Culture and the Bahamas Association of Athletic Associations at the Thomas A Robinson National Stadium from Wednesday to Friday didn't crown an overall champion, the Big Red Machine rolled away with four of the six divisional titles.
In the two others that they didn't win, the Big Red Machine ended up second behind Grand Bahama's Tabernacle Baptist Academy Falcons, winners of the under-14 boys' division and the Queen's College Comets took the under-14 girls' division.
SAC won the under-18 boys' division with 118.50 points over Tabernacle Baptist, who had 97.50 and Queen's College, the third place finishers with 88.50.
SAC also dominated the under-16 boys' division with 150 points. Their arch-rivals, Queen's College trailed with 90 and Tabernacle Baptist had 83 for third place.
In the under-18 girls' division, SAC came up with 155 to pull off another win. Queen's College had 113.50 for second and St Anne's School got third with 65.
And in the under-16 girls' division, SAC collected 166 points to finish well ahead of Queen's College, who had 127.50 for second. Tabernacle Baptist was third with 63.
Tabernacle Baptist took the under-14 boys' title to Grand Bahama after accumulating 118 points. SAC was second with 96 and CH Reeves picked up third place with 83.
Queen's College clinched their only divisional title in the under-14 girls' division with 103.50 points. SAC had to settle for second with 97 and the North Andros High Seminoles got third with 81.
The champions in both the under-20 boys and girls were decided following the completion of the BAAA's Test Run on Saturday and Sunday for the third version of the IAAF World Relays that will be held from April 22-23 at the stadium.
SAC's head coach William 'Knucklehead' Johnson was elated with the team's performance as they added to their come-back victory over Queen's College last month to regain the BAISS title they lost for the past two years.
"The kids rose to the occasion. They came there with one thing in mind and that was to re-establish ourselves as the number one school after all of the talks was going around," Johnson said. "We wanted to prove to the Bahamas that we are still the champions and we did that as we came out on top."
Johnson said going into the meet, they knew that teams like Tabernacle Baptist, North Andros High, CH Reeves and CR Walker, but they were up for the challenge, even though many expected the Big Red Machine to have another hotly contested showdown with the Comets.
"We had a break in terms of when the two meets were held, so we had to keep them motivated. I don't know if we got them to the level that they were at for BAISS, but they came back and performed at Nationals," Johnson stressed.
"But there were some really good performances in the meets from all of the schools. People really showed up and they performed."
Among some of the top performers for the Big Red Machine were Reshae Dean in the under-14 girls with record breaking performances in the 200m (25.86) and 400m (1:00.88); Jada Knowles in the under-16 girls with records in the 100m (12.32) and 75m hurdles (11.78); Megan Moss in the same division in the 200m (24.25) and 400m (55.55), both meet record and Carifta qualifying performances; Adrian Curry in a meet record and Carifta qualifier in the under-18 boys' 100m (10.66); Tiffany Hanna in the under-20 girls shot put (11.76m, 38-07) and discus (39.06m,128-02), both meet records and Tavonte Mott in two meet records as well in the under-20 boys 110m hurdles (14.26) and 200m (21.65).
The meet, hosted jointly by the Ministry of Youth, Sports and Culture and the BAAA, didn't crown an overall champions, which left Johnson a little perturbed because he can't understand why a national champion has been decided at the end of the nationals.
"We won the nationals," he said. "We will win a minimum of five of the eight categories. It just appears that every time that we will the majority of the categories, we are not named the national champions. Something has to be wrong with that. They continue to try to treat us like stepchildren."
At least 39 records were broken during the course of the three-day meet that was held in recognition of veteran historian/statistician Alpheus 'Hawk' Finalyson, former BAAA's president and public relations officer and former IAAF Council Member.
The Falcons came into the meet having won the Grand Bahama High School Championships in February, but head coach Nikito Johnson said their most difficult task was trying to keep their athletes primed to compete here almost two months later.
"I feel elated by my kids performance. I always give them a level to reach for and they pressed for that," he said. "I had a kid who false start in the 400 and she cried. Sh felt like she let her coach down. But I give them a standard and they just go for it."
Johnson said after winning the title in February, they didn't have any other meets to prepare with the schedule for the Nationals keep shifting.
"It was hard, but I just keep them focused and in practice, reminding them of what we had to do," he said. "The Falcons are going to come out here no matter what do what we always do - compete to the best of our abilities."
After analyzing all of the results posted so far this year, Johnson said he ensured that his athletes stuck to the goal and that is to b ready to compete.
Tabernacle Baptist did have one minor setback during the championships as Javan Martin, the top sprinter in high school, went down with an injury on the curve of the under-20 boys 200 metres. He was assisted of the track with what was considered an flamed Achilles when he put his right "stinky' foot down.
While Martin missed out on an attempt at the sprint double, after winning the 100m in a record breaking performance of 10.50 seconds on Wednesday night, another impressive Taberancle Baptist showing came from Holland Martin, the under-20 boys 400m champion in 49.56 after winning the long jump with a record breaking and Carifta qualifying leap of 7.71m (25-feet, 3 1/2-inches) and placing second in the triple jump with 14.78m (48-6).
Also, Solomon Lord won the under-20 boys high jump with 1.90m (6-2 3/4); Tyler Missick took the under-16 boys high jump with 1.86m (6-11/4) and Mateo Smith (11.77) and DeAngelo McKie (23.32) record breaking feats in the under-24 boys 100 and 200m respectively with McKie getting second in the 100m in 11.79), while Smith took the long jump (19-08) and high jump (1.55m, 5-01) in record breaking achievements.
From the other schools, quite a number of outstanding performances were also turned in.
Bronson Rolle, competing for Queen's College, qualified for Carifta in the under-20 boys 400m in a record time of 52.84, while teammate Daehja Moss established three meet records in the under-18 girls long jump (5.61m, 18-05), high jump (1.67m, 5-05.75) and triple jump (11.42m, 37-05.75) and Kirona Wilson, runner-up in the heptathlon, won the javelin (33.12m, 108-08) and 400m hurdles in a meet record of 1:03.90.
St Anne's Devine Parker was the queen of the sprints taking the under-18 girls 100m (11.81) and 200m (23.97), both meet records and Carifta qualifying times. Sasha Wells, running for Home School, was a triple treat in the under-20 girls' 100m hurdles (14.12), 100m (11.89) and 200m (24.57), all meet records.
Denvaughn Whymns of CC Sweeting also qualified for Carifta in winning the under-18 boys' 110m hurdles in 13.81 and 200m in 21.45 and Shaun Miller, representing Queen's College, qualified for the under-18 boys high jump with a meet record of 1.90m (6-02.75).
See Tribune's scoreboard for the complete results on Tuesday.