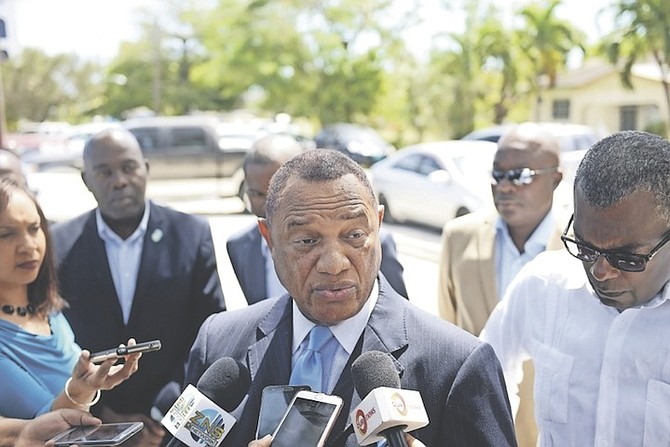 By RICARDO WELLS
Tribune Staff Reporter
rwells@tribunemedia.net
CLAIMS by the Free National Movement that the government is using "tax payer money" to fund its 2017 electoral campaign was yesterday blasted as "fake news" by both Prime Minister Perry Christie and Deputy Prime Minister Philip 'Brave' Davis.
The two, addressing the press on the sidelines of a walk-through of new Fox Hill community centre, took FNM Chairman Sidney Collie to task for what they labelled "ignorance" and "deliberation distortion of fact" by the opposition for political gain.
Mr Collie in a statement on Friday suggested that the PLP government has raided taxpayer funds since taking office in 2012.
He insisted that the only thing the Christie administration has done is short-changed the Bahamian people at every turn.
Mr Collie also accused the government of handing out "lavish contracts" to their "friends and donors".
Mr Christie, referring to portions of a statement issued by PLP Chairman Bradley Roberts on Sunday, warned Mr Collie that while his words are directed to the PLP as a political organisation, all responses on the matter would come from the government, which he said must defend its actions.
"We are the government of The Bahamas, if in fact they put out false information and fake news on the Progressive Liberal Party, it is the government of The Bahamas that must defend itself," stated Mr Christie.
"The government of The Bahamas was elected by the people who we would wish to protect when it comes to our revenue. But part of the protection is not allowing lies to be institutionalized through fake and false information.
"And so the balance that must exist in our country, we feel good about it. We are a mature party. Mr Collie, he should know personally, him, he should know personally the maturity of this government," he added.
Added Mr Christie: "Let him hear me say that. He should know personally the maturity of my government."
For his part, Mr Davis said Mr Collie's claims should be viewed as nothing more than nonsense from a party that could not "discern between what is government and what is politics".
He said: "Again, this demonstrates the level of either ignorance on that side and or deliberate distortion of fact, to be able to promote their own political (agenda)."
Mr Davis said he remains hopeful that the country could one day develop to a degree where campaign finance laws could be enacted, bring an end to these sorts of arguments.
Mr Davis said: "Those calls have been and I think it is something that we ought to be addressing, but unfortunately no one has gotten around to it."
"This is something that has been talked about from time immemorial and we always seem to put it on the side and it is always heightened at this time of the year depending on who is in government.
"When we were in opposition we called for it. It is always the cry for the opposition," Mr Davis said. "It is a debate that will continue until we deal with it."
Months after being elected to office in May of 2012, Prime Minister Christie committed his government to campaign finance reform talks.
However, despite this indication, there has been no progress toward any such talks or legislation.