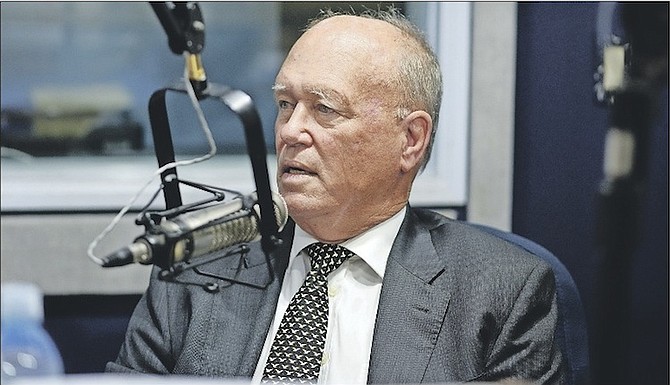 By KHRISNA VIRGIL
Deputy Chief Reporter
kvirgil@tribunemedia.net
MONTAGU MP Richard Lightbourn yesterday accused the governing Progressive Liberal Party of attempting to "lure" labour unions and their members into supporting the party with amendments to legislation that governs employee relations weeks ahead of the impending general election.
Meanwhile, Official Opposition Leader Loretta Butler-Turner also hit out at the Christie administration saying amid debate on the legislation, there were Bahamians who have not been paid for months for services to the government.
She also pointed to certain members of Parliament who have consecutive absences from House sessions, which she said qualifies as grounds to vacate their parliamentary seats.
The Opposition members lambasted the government during debate on Bills for Acts to amend the Employment Act and the Industrial Relations Act yesterday afternoon in Parliament.
"How can this be that important? Half the members of the government are not even here in Parliament and they want to suggest that this means so much to them," Mr Lightbourn remarked. "It's appalling. The only reason that this piece of legislation is of any importance to the government is because it's one of those things you throw out before election in an effort to induce the members of the union to think the government is looking out for our best interest, aren't they wonderful. No you're not wonderful. It's appalling, Mr Speaker.
"This piece of legislation was so important and here we are weeks, months before an election and this is the first moment on which they are talking about it? They haven't given this legislation one piece of consideration until now weeks before the election. (It is) absolutely appalling and I assume that the members of the unions here present are not going to be lured into thinking that the government is interested in this by waiting this amount of time."
He continued: "When we were approaching the last election I seem to remember the members opposite carrying on (and) criticising the previous administration for signing contracts weeks or months before an election and the Prime Minister as I recall was one of those persons that assured the Bahamian people that would not happen (and) that it is wrong. (And) what are we seeing now? Every day we see some new contract signed by this government weeks before the election and this was so terrible five years ago. This was so terrible that the government was going to do something to stop it."
Last week Labour Minister Shane Gibson tabled the amendments, the most concerning of which to employers is the raising of the redundancy cap in the Employment Act by two-thirds. Line staff currently entitled to a maximum of 24 weeks or six months redundancy pay and gain two weeks for each year they have been employed up to a 12-year 'cap' would now be entitled to 32 weeks up to 16 years upon enactment of the legislation. Managerial staff would go from the existing 48 weeks/12 months entitlement immediately to 60 weeks and then to 80 weeks two years after enactment. Employers have called the associated cost increases prohibitive and yesterday, Atlantis, Paradise Island, joined the chorus of criticism.
Long Island MP Mrs Butler-Turner went on to suggest that consideration should be given to pay cuts to members of Parliament who are consistently absent from House proceedings.
It was unclear to whom the MP was referring but in recent weeks criticisms have been directed at Free National Movement Leader Dr Hubert Minnis and PLP Elizabeth MP Ryan Pinder over their noticeable absences from House sessions.
She said: "You cannot go on the job and say I want xyz of money, but your productivity falls short of xyz. That is when you know that you are being productive for your employer and your employer is happy to give you the benefits.
"All too often, Mr Speaker, we demand so much and we see so much wrong on the other side, but many times we don't look within. It's just like us in here. Some of us choose to come to work (and) some of us choose not to come to work. But yet we (are) still getting paid. That can't be right. If you (are) getting paid you show up to work.
"I heard someone on the back bench ask someone on the bank bench here today 'how was your trip?' They been gone so long I thought they was gone for good. But the reality is their money gone in the bank. You know and they ain't been here for weeks and weeks and weeks … accountability. You have to put in the time if you getting the man dime or the woman dime.
"Don't tell me 'oh you been on (an) extended trip'. Your job is to be here. And if you are not here, you're either sick or you have a good reason for not being here.
"We have members sitting back here. Look at these seats back there. How about we deduct some money out of their pay just like how the businesses deduct out of y'all pay cheque. How about that? Because they don't come to work. One I understand hasn't been here for 90 days. That means he vacated the seat actually, but has the salary been vacated? We as legislators if we want to govern then let us govern ourselves accordingly," Mrs Butler-Turner said.