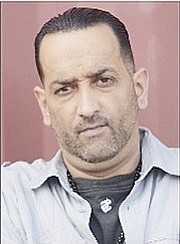 By Inigo 'Naughty' Zenicazelaya
Enough of the mock NFL Drafts, and monitoring where the likes of Tony Romo, Adrian Peterson and Jamal Charles will all end up, and under what circumstances?
In the NBA, my Lakers still suck, despite there being light at the end of that long dark tunnel, the Lakers have been in the last three seasons.
Our home town boy Buddy Heild is lighting it up in the NBA for the lowly Sacramento Kings, his numbers are way up, but the Kings continue to lose.
March Madness is exactly that,madness, and having my bracket busted twice on Sunday, (thanks Louisville and Duke) I'm watching the rest of the games from a distance.
So enough of the here and now, this week let's have a look back on what great moments in sports history occurred on this day March 21st.
Despite limited occurrences, nothing monumental has occurred on this day in sports since 1994, when something did occur it involved one of the all time great athletes in sports.
On This Day in Sports History :
1934 Babe Didrikson pitches an inning in an A's-Dodgers exhibition game Walks 1, hits the next guy, 3rd guy hits into triple-play
1942 Joe Louis KOs Abe Simon in round 13 for the heavyweight boxing title
1946 Kenny Washington signs with Rams, 1st black NFLer since 1933
1947 Test Cricket debut of Bert Sutcliffe, NZ v England at Christchurch
1953 NBA record 106 fouls & 12 players foul out (Boston-Syracuse)
1959 21st NCAA Men's Basketball Championship: California beats W Va 71-70
1959 113th Grand National: Michael Scudamore aboard Oxo wins
1961 Art Modell purchases Cleveland Browns for then record ($3,925,000)
1962 Philadelphia retires pitcher Robin Roberts' # 36
1964 26th NCAA Men's Basketball Championship: UCLA beats Duke 98-83
1964 UCLA completes undefeated NCAA basketball season (30-0)
1964 118th Grand National: Willie Robinson aboard Team Spirit
1970 32nd NCAA Men's Basketball Championship: UCLA beats Jacksonville 80-69
1970 Vinko Bogataj crashes during a ski-jumping championship in Germany; his image becomes that of the "agony of defeat guy" in the opening credits of ABC's Wide World of Sports.
1971 Gavaskar scores 1st of his 34 Test Cricket tons, 116 at Georgetown
1971 Jan Ferraris wins LPGA Orange Blossom Golf Classic
1973 Frank Mahovlich becomes 5th NHLer to score 500 goals
1978 Padres fire Al Dark (2nd manager ever fired during spring training)
1982 Jerry Pate celebrates golf win by jumping into the water hazard, home to alligators that live on the course and frequent the water hazards.
1984 NFL owners passed the infamous anti-celebrating rule
1985 Arthur Ashe is nominated for the Internatinal Tennis Hall of Fame
1986 Pittsburgh Associates buy Pittsburgh Pirates for $218 million
1987 PSV sells soccer player Ruud Gullit to AC Milan (Ÿ17 million)
1992 2nd WLAF (World League Of American Football) season begins
1994 Wayne Gretzky ties Gordie Howe's NHL record of 801 goals
• Naughty presents 'Mischief and Mayhem in da AM' from 6am to 10am, Monday to Friday and 'The Press Box' sports talk show on Sunday from 10am to 1pm, on KISS FM 96.1. Comments and questions to naughty@tribunemedia.net