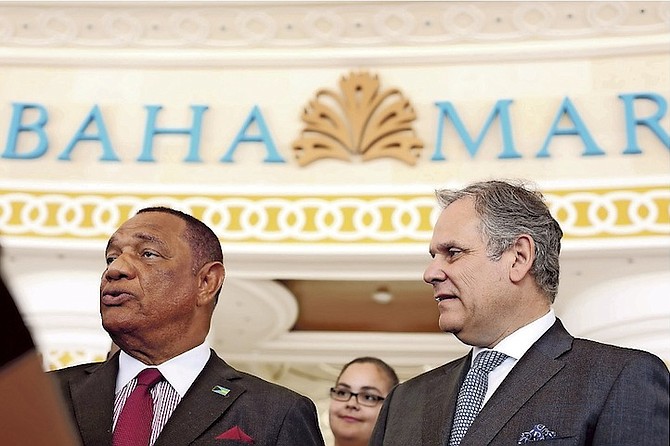 By KHRISNA VIRGIL
Deputy Chief Reporter
kvirgil@tribunemedia.net
IN THE absence of a casino operator licence and no definite answers on when guest reservations will be accepted, China Construction America officially "transferred" mega resort Baha Mar to Hong Kong-based Chow Tai Fook Enterprises Ltd yesterday.
The transfer was executed by CCA handing over to CTFE its Temporary Certificate of Occupancy (TCO), which now allows visitors to occupy rooms and utilise other resort amenities.
Describing himself as feeling an "incredible degree of pleasure", Prime Minister Perry Christie adopted a celebratory tone but chastised critics, saying those who are rooting for the project to fail for political purposes should feel terrible about doing so.
During comments that were seemingly directed at Free National Movement (FNM) Leader Dr Hubert Minnis, Mr Christie added that he could not imagine how anyone who cares about people would continue to "distort" the truth about the "real" West Bay Street development.
Asked when the resort would begin taking guest reservations, Graeme Davis, CTFE Bahamas president, said this would commence "very, very soon" with the launch of Baha Mar's advertising campaign.
He went on to suggest that non-paying guests would "fill" the resort on its first day of operation, explaining that guests were "invited" for Baha Mar's celebration and ribbon cutting to commemorate its opening.
Officials plan to launch the stalled resort in phases beginning with a soft opening on April 21.
At this time the golf course, the Grand Hyatt, the Convention Centre and other amenities will be opened.
Mr Davis said there is a very short term booking window with an "incredible amount of pent up demand", adding that there are no concerns in this regard.
"Today Baha Mar is being transferred to a world class company, one that successfully manages prestigious hotels across the world, including three successful resorts in the Caribbean - one in Antigua, one in Bermuda and one in the British Virgin Islands," Mr Christie said as he was flanked by Cabinet ministers and Baha Mar officials at the entrance to the resort's casino.
"This new owner has actually increased their capital marketing and pre-opening investment from $200m to $250m. We are grateful for such a strong level of experience and investment to usher in new opportunities for the Bahamian people.
"This weekend I remarked on the exciting progress leading up to the April 21st opening of the Baha Mar resort. I said I would be here this week because this is real. Everyone who is here today can feel the excitement and the activity. I for myself have seen new employees who are coming in for training and moving forward all on course to make this project a big success."
Mr Christie continued: "Baha Mar like Atlantis will then open in phases with more job opportunity at every phase and ... I was told as we were walking here ... that the guest rooms are being made ready, the soap and other accoutrements are being put into the rooms, the rooms are being made ready, the housekeepers are up there now working and getting those rooms ready (and) they are going to start cooking in the kitchen this evening again as a practical demonstration of getting ready.
"They are probably going to have employees sleep in a couple rooms. They'll be able to practice the proficiency that will be required and so it is all go and it is all go right now. It is real.
"Ladies and gentlemen, no one knows better than I how these jobs will change lives. These new opportunities are going to be a meaningful change for a lot of Bahamian families and that's what it's all about and that's why we worked so hard to make sure that Baha Mar was delivered to successful and to safe hands.
"My final words are to those who are rooting against the success of this project for political purposes. They would be best advised not to do so and to feel terrible about doing so.
"If they could actually see the hope and excitement and anticipation on the faces of the people who are being employed here. These are new employees, many of them working for the first time in this kind of environment. It is a defining life experience for them and they will take up ownership of this particular hotel resort complex and they are going to make it one of the finest resort complexes in the entire world.
"That is the intention and I can't imagine anyone who cares about people who would continue to distort the truth about this wonderful edifice.
"It's going to have an enormous economic impact on people, it's going to give people a new lease on life and I'm going to be so happy driving up and down here and watching people come back and forth to work," Mr Christie added.
Ready for business
During his remarks yesterday, Mr Davis said executives have already employed 1,000 Bahamians, who will face additional training to better serve guests. Reservations will not be accepted until Baha Mar's advertising campaign is launched, he said.
Mr Davis added that he was thrilled to receive the TCO, now allowing guests to sleep in rooms, cook in Baha Mar's kitchens and have staff trained for the next 30 days.
"It's a huge process for us to be open. We're excited (and) we're ready," Mr Davis said.
Asked to comment on the status of the casino licence, Mr Davis said it was in the process of completion.
"The casino licence is well underway. We have been given the approvals to order the machines as the prior developer had the machines in place (and) training underway before their licence was received.
"We are in the same process as they were. We really need to make sure that we're ready, but that process is moving along smoothly and we don't expect any concerns. We have a public hearing coming up and we are ready to present."
He continued: "We are already full for our first day, so we have invited guests that are already invited and are coming for our celebration ribbon cutting. But it's open to the public here to come and enjoy the beautiful fountain shows. Our restaurants, our bars, of course our casino will be fully operational, our golf course will be fully operational, our convention centre will be fully operational as well.
"Again we are launching our marketing campaign," Mr Davis said.
"We're just doing the final touches there. Again it takes time, but we want to get it right. So we are being thoughtful. We're making sure that we take the right actions and the right steps so whatever you read in the papers it is real and we are opening and we are excited to have our guests come here very, very soon and join us."
No funny business
Addressing concerns about casino equipment being delivered to the resort in the absence of a casino licence and rooms being filled by invited non-paying guests, Tourism Minister Obie Wilchcombe said there was nothing extraordinary about either of these developments.
"If you remember Baha Mar had equipment in the place and some of the equipment had to go out," Mr Wilchcombe said. "The company was saying they wanted their equipment because Baha Mar was not proceeding and so it's not unusual because it's part of the installation and a part of what we have to do in gaming is approve the equipment. So that's a part of the process and the training takes place.
"At a particular point in the due diligence they'll get permission for them to bring the equipment in and that has been done and so now we're going to the next step, which will be the public hearing and soon after expect the recommendation to come from the Gaming Board. But the gaming board works in isolation away from our offices and then they make the recommendation," he said.
Regarding the resort being filled with invited guests on its first day, Mr Wilchcombe said it was "normal". "They want you to be the test so you come in, you look at everything that is going on, you tweak based on what you get from the guest. So you'll be seeing that over the next couple of weeks because, right now, I expect some of the employees to be spending nights here.
"This is really to get into the proficiency to ensure that we can, in fact, run this property because look at the brands that you have? You have to remember now that the standards are so high. They have to get to a particular level. You only get there through practice and so it's a part of the preparation progress."
Prime Minister Perry Christie announced Baha Mar's sale to CTFE last December.
Since then, the matter has been one of contention and its April 21 opening branded "an election gimmick" after it was confirmed that the acquisition by CTFE will not close until all construction work is completed.
Last month, Robert Sands, Baha Mar's senior vice-president of government and external affairs, told Tribune Business that CTFE had agreed "to take possession and operate portions of the resort" until its deal with the China Export-Import Bank could close.
Mr Sands' comments came after Mr Davis triggered a renewed onslaught from Opposition politicians by confirming that Baha Mar will open without its sale being completed.
Earlier this month Dr Minnis pledged that his party will "engage and execute a real sale" of the Baha Mar resort "to a qualified and respectable purchaser who believes in Bahamians," should the Opposition party win the next general election.
In a statement posted on his Facebook page, Dr Minnis also said this buyer would use only Bahamian labour to complete the beleaguered resort, while again promising that his party would make public the details relating to the Baha Mar deal and any other government dealings with Chinese investors.