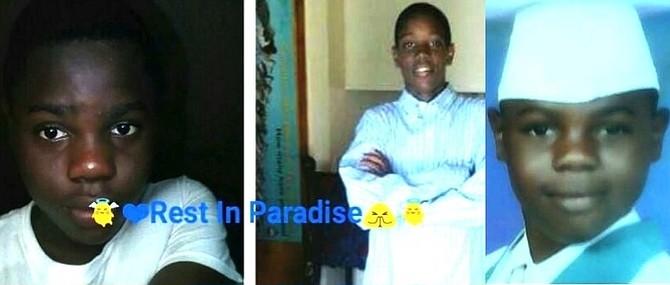 By SANCHESKA BROWN
Tribune Staff Reporter
sdorsett@tribunemedia.net
THROUGH a stream of tears and uncontrollable sobs, Nakesha Williams yesterday said she cannot understand how someone could have shot her 13-year-old son and 15-year-old nephew multiple times and then leave "her babies" on the side of the road "to die like dogs".
In an exclusive interview with The Tribune, Ms Williams said her heart is broken into "a million pieces" as she pleaded with the public to provide any information they might have to the Royal Bahamas Police Force about the murder of the young boys.
Keishon Williams, 13, and Davante Lindsey, 15, of Knowles Drive, Bozine Town, were discovered shot to death early on Sunday morning on a dirt road off Graham Drive, Yellow Elder Gardens.
The Tribune understands that the pair were found side-by-side and appear to have been shot execution style. Their bodies were found around 9am by people walking in the area.
The teens became the country's 35th and 36th murders of the year, according to The Tribune's records.
Ms Williams said her family has still not come to grips with the fact that Keishon and Davante "will never, ever come home". She descirbed her son as a "boy whose smile would light up the room".
"He was my baby, my sweet innocent baby. Keishon was an honour roll student. He was respectful and loving and no one could say a bad word about him," Ms Williams said.
"He was really into his school work and electronics. He loved computers and cell phones and was excited about taking his BJCs. He used to go by my aunt all the time to use the computer just so he could learn because he wanted to get A's.
"He also loved food," she continued, "boy could he eat! My nephew was sweet, but he was mischievous. I mean he had his ways, but no one should have to die like that. Why would you do that to anyone?
"I have no idea why someone would kill them. I don't know why they were on that road but this is extremely difficult for me and my sister. My other two children are coping and my daughter, she is eight, she keeps saying 'It's going to be okay, mommy'. My sister (Davante's mother) isn't taking it well; she does not want to talk to anyone. She is just quiet and numb."
Ms Williams said: "We just want anyone with information to please come forward. Please, please my babies do not deserve this, if you know something please come forward. Any information you have is appreciated."
Kieshon was a ninth grade student at A F Adderley Junior School. A memorial will be held in his honour on Friday morning.
The school's principal, Theophilus Claridge, told The Tribune yesterday that the students and teachers are devastated by the loss. He said several students were so "emotional" they had to be sent home.
"He was mannerly and good academically," Mr Claridge said. "He never had any behavioural issues so it was a shock when we got word that he died.
"The guidance counsellors have been working with everyone and we will have an assembly on Friday to allow the students to have a voice and talk about how they remember him," he said.
"He was very close with some of the students so we had smaller sessions to deal with individuals. One of his friends, who he went to primary school with, was in shock and we had to send him home.
"His teacher was in tears," Mr Claridge added. "It is just really, really hard as you can imagine."
Up to press time police had no one is custody in connection with the murders. Anyone with information is asked to contact police at 911 or 919, the Central Detective Unit at 502-9991 or Crime Stoppers anonymously at 328-TIPS.