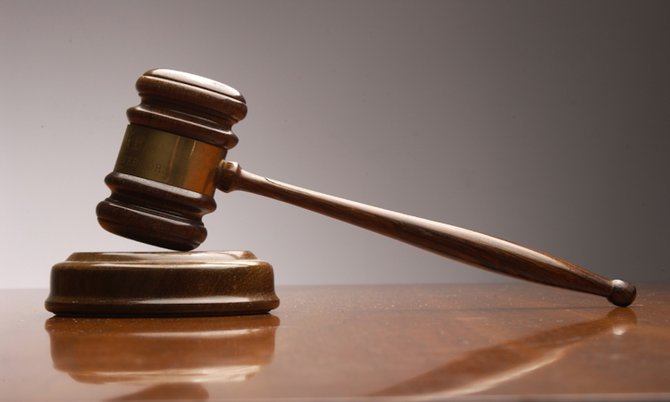 By LAMECH JOHNSON
Tribune Staff Reporter
ljohnson@tribunemedia.net
A WOMAN fought back tears yesterday as she recalled for a jury how an evening, after leaving work with her boyfriend, degenerated into them being held up by a masked gunman and him being shot dead.
Tonika Laroda testified in Supreme Court that on March 4, 2014, she left work at 6pm after receiving a call from her boyfriend, Darius Adderley, who said he would pick her up.
"I had something for his cousin," the jury was told. "Once I arrived home, he parked in the opposite lot across from my house on Roseland Street. We didn't come out of the vehicle right away even though I was supposed to go to my neighbour's birthday party," Ms Laroda said.
"After 40 minutes or so, I heard Darius say 'hold on, hold on' and I heard a knock on the glass. I turned and noticed a chrome-looking gun. Darius' window was screwed all the way down. The person came around to his side and asked if we had anything. He had the gun to Darius' head.
"I decided to give him my cellphone that was on the dashboard and Darius' own was playing music so he gave it to him. The person continued to asked if we had any money. I was in shock," she said.
As the witness was giving her evidence, 29-year-old Henley Claridge sat behind his lawyer, Jiaram Mangra, listening.
Claridge is accused of robbing Ms Laroda and Mr Adderley of two Samsung cellphones, together valued at $600. He is also accused of intentionally killing Mr Adderley by means of unlawful harm.
According to police reports at the time, shortly before 9pm, Mr Adderley was sitting in his 2003 Dodge Town and Country Van on Roseland Street with his girlfriend when a man armed with a handgun robbed them.
As he was leaving, the suspect shot at the vehicle, hitting Mr Adderley in the back. He was taken to hospital by ambulance, but died of his injuries shortly after his arrival. The woman was unharmed during the robbery.
Claridge, when formally arraigned in Supreme Court on July 4, 2014, pleaded not guilty to all three charges. He maintained that plea on Monday.
Desiree Ferguson and Cassie Bethel represent the Crown.
Ferguson asked the witness what, if anything, happened next.
"I saw Darius try to disarm the guy while he was still in the car. There was a struggle and then I heard a gunshot. The person stood in front of the vehicle then proceeded toward the graveyard," the witness said.
"I asked Darius if he got shot, but he didn't say anything," the jury was told.
Ms Laroda said her father called the police and it was then that she learned that her boyfriend had been shot in the back.
"What was the lighting like?" Ms Ferguson asked.
"There was a light post on the opposite side of where Darius was parked, but the graveyard had no lighting," the witness said.
"You said the person approached your window first?" the prosecutor asked.
The witness said "yes". She was then asked to describe the attacker. "The person had on a mask, a sweater, long jeans and gloves," she said.
When asked the colour of the sweater, she said navy blue.
"From the mask, sweater, and gloves, were you able to see his skin colour?" the prosecutor asked. The witness said no.
Ms Laroda said Mr Adderley was moving around a lot despite being told not to by police and that the ambulance took a long time to arrive to take him to the hospital.
"At the hospital, they pronounced him dead," Ms Laroda said as she fought back tears.
The case continues today before Senior Justice Stephen Isaacs.