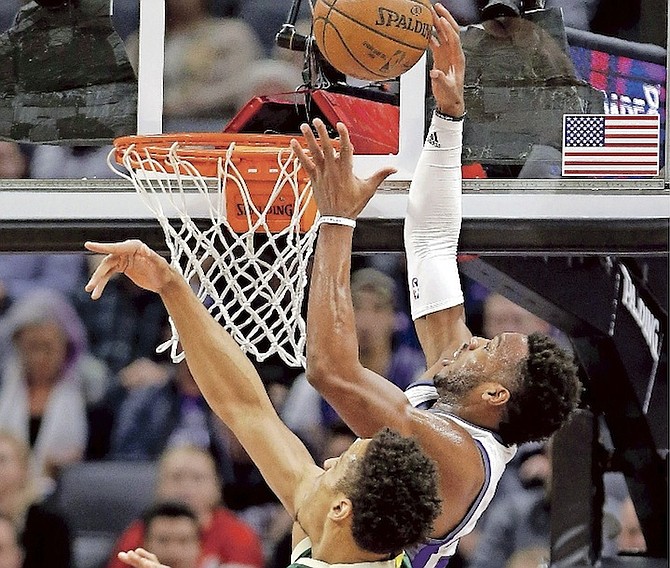 By RENALDO DORSETT
Sports Reporter
rdorsett@tribunemedia.net
His production as a member of the Sacramento Kings continues and Buddy Hield reached a new mark this week by tying an NBA career high.
Hield finished with 21 points in the Kings' 116-98 loss to the Milwaukee Bucks at the Golden 1 Center in Sacramento, California, on Wednesday night.
He shot 50 per cent (8-16) from the field, 2-3 from three-point range and added four rebounds and two assists.
Hield tied a previous career high of 21 points in a 102-95 January win over the Indiana Pacers when he shot 8-17, including 5-8 from three.
In 14 games since joining the Kings, Hield is averaging 14.2 points, and shooting 45 per cent on three-point attempts.
Following his game against the Bucks, Hield credited the freedom within Kings' head coach Dave Joeger's offence.
"Coach Joeger let's me play but I'm still trying to learn the offence and the way I can help other guys score the basketball too. Offensively and defensively I'm trying to get better and know his schemes and tactics. There's growing pains with that too, but I'm getting better at it," Hield said. "We're learning, we're still not there but it takes time. Guys like Steph [Curry], it didn't happen for them overnight, it took a couple of years for them to get where they are at. That's life, you need experience to be where you want to be at. Every challenge I get I'm going to go out there and compete my hardest, but I'm ready. I'm ready for every challenge that comes to us."
Hield was one of the principals in a February trade that saw the Bahamian guard packaged along with Tyreke Evans, Langston Galloway, a future 2017 first-round and second-round pick to Sacramento in exchange for All-Star centre DeMarcus Cousins and Omri Casspi.
Hield is expected to be a major component of a rebuilding young core for the Kings which will include 2015 lottery pick Willie Cauley-Stein, last year's first round draft pick Skal Labissiere and the future picks in 2017.
The Kings have been 3-11 in the timespan since the trade at a record of 27-44. Tonight, they travel to face the Golden State Warriors at 10:30pm local time.