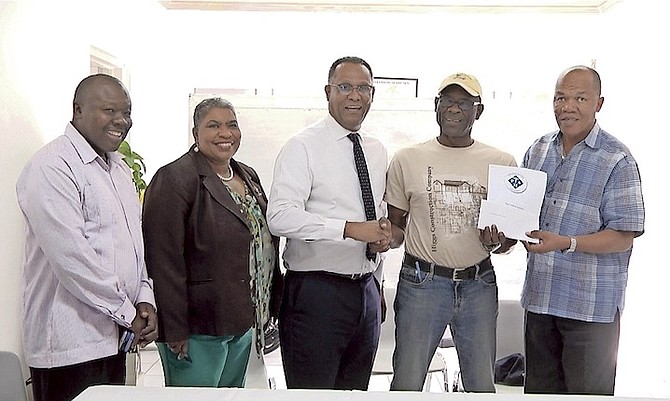 FORMAL contracts for the renovation of community clinics in Harbour Island and Spanish Wells, Eleuthera have been signed.
Minister for Grand Bahama Dr Michael Darville, who heads the government's clinic renovation initiative, travelled with Managing Director of the Public Hospitals Authority Herbert Brown and Administrator of Community Health Services in the Department of Public Health Charlene Bain for the signing.
A team of officials from the PHA and the Department of Public Health also travelled to celebrate the agreements on site at the clinics in brief signing ceremonies on Wednesday.

The renovation works at the Spanish Wells Clinic will entail the general refurbishment and expansion of the clinic, inclusive of repairs to lighting fixtures and air conditioning supply and return grills in the lobby, registration and pharmacy areas.

Repairs also will be conducted in the examination, triage and emergency areas of the clinic. Significant works will be carried out to repair and improve the exterior and roof of the clinic.

The contract for the Spanish Wells Clinic is valued at just under $293,000, and has been awarded to the St George's Cay Construction Company.
Renovation works at the Harbour Island Community Clinic will entail the full refurbishment of the clinic inclusive of repair or replacement of ceilings, light fixtures and a/c supply and return grills for the lobby, registration and pharmacy areas.

Patient and public restrooms will be upgraded to ensure handicap accessibility, and significant works will be undertaken to upgrade the dental area. New modern examination, treatment, laboratory, pharmacy and storage areas also will be created. The estimated value for the Harbour Island Community Clinic renovation is approximately $325,000, and has been awarded to Higgs Construction Ltd.
"The public should rest assured that healthcare in The Bahamas is very much on the move, and the improvements to our clinics will translate into improvements in the patient experience throughout our public health system," Dr Darville said.
He described the process, which is occurring at clinics across the country as historic and "clear evidence of the government's commitment to upgrade and renovate health facilities across the nation to a standard that allows us to deliver universal primary care."

The contracts are the latest in a series of agreements targeting public health facilities in New Providence and the Family Islands for significant infrastructural improvements ahead of the National Health Insurance primary care roll out.

Mr Brown said for the PHA's part, the agency is focused on ensuring that the significant works – much of which is being provided by the Capital Development Team of the PHA, "provides for efficiencies in the delivery of service and a high standard of care to residents."
On Tuesday, March 21, contracts valued at approximately $800,000 were executed for significant renovations at the South Beach Health Centre and the Flamingo Gardens Clinic.

This followed the execution of contracts valued at approximately $1.2m for the renovation of community clinics in Acklins, Crooked Island, Inagua and Mayaguana earlier this month.