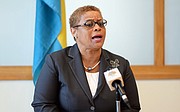 BY DENISE MAYCOCK
Tribune Freeport Reporter
dmaycock@tribunemedia.net
The highly anticipated Bahamas Trade Information Portal will officially be launched online April 6, and is expected to facilitate trade exports from the Bahamas to potential international buyers.
Minister of Financial Services Hope Strachan and Minister for Grand Bahama Dr Michael Darville urged Grand Bahamian exporters and potential exporters to register to have their businesses appear in the portal's exporter directory, which is free to all businesses in the country.  
The portal is a joint initiative of the government, led by the Ministry of Financial Services which has responsibility for trade, the Bahamas Chamber of Commerce and the Employers Confederation.
Minister Strachan and Minister Darville met in Grand Bahama with the consultants who are assisting in the design and development of the portal.  
Ms Strachan said that Alfons van Dujvenbode and Joost van der Kooij, managing partners of Globally Cool in the Netherlands, are providing sensitisation on the portal.
"The Ministry and the Chamber are confident that the Trade Information Portal will provide Bahamian businesses with power information and technical support to identify emerging export markets with impressive growth and untapped potential," she said.
"The portal is a unique online platform that provides market intelligence and information to Bahamian entrepreneurs, aimed at filling the information gap and thereby creating new opportunities for trade."
Ms Strachan said in October 2016, the International Trade Centre was retained to provide services to design and develop a trade portal for the Bahamas, and ITC engaged Globally Cool to assist.
The portal will assist in the ongoing efforts to drive diversification of the Bahamian economy by expanding trade with regional, hemispheric and international trading partners.
She stressed that the objective is to create a "one-stop-shop" for relevant and current national, regional, and international trade information.
"By creating a centralised location for vital trade information, the portal will serve as an important business facilitation tool by reducing the cost and time required to access reliable trade information, and, in turn, improves the ease of doing business in the Bahamas," she said.  
Minister Strachan said the critical feature of the trade portal is the exporter directory, which will provide Bahamian companies with an opportunity to showcase their products to potential buyers.
Minister Darville believes that the new portal will be a game-changer for Grand Bahamian export companies, and will have a positive impact on the local economy, while fundamentally changing the way in which Bahamians do business in international markets.
"As a result of accessing this portal, local Grand Bahamians will be able to save the cost of attending global trade shows," he said. "Instead, they will be able to showcase their work, as well as products and produce in international markets, while also giving international buyers access to the local Grand Bahamian market, all at the click of a button."
Dr Darville said he welcomes the use of this new innovative technology and encouraged local entrepreneurs to seize the opportunity to further grow and expand their businesses.