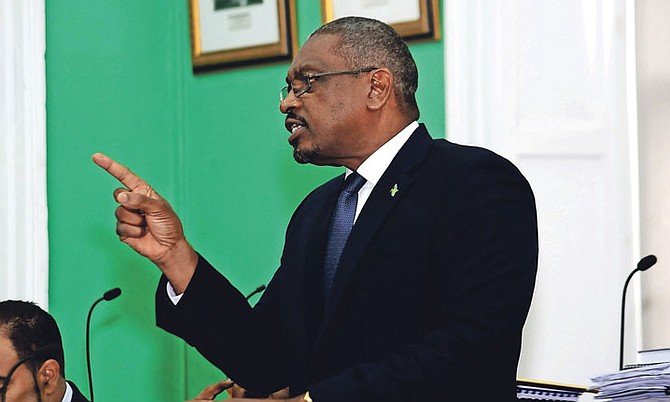 By NICO SCAVELLA
Tribune Staff Reporter
nscavella@tribunemedia.net
FREE National Movement Leader Dr Hubert Minnis yesterday rebuked recent claims by Education Minister Jerome Fitzgerald that he is "pulling and rooting against the Bahamian people" with his continued scepticism over the future of the $3.5bn Baha Mar resort.
This, Dr Minnis said in a statement, is a "political ploy" by the PLP and demonstrates the governing party's willingness to spread falsehoods "in an attempt to continue to avoid transparent disclosure of the details that Bahamians want and deserve to know."
To that end, Dr Minnis accused the government of continuing to "purposefully ignore" pertinent questions regarding the Baha Mar deal, and seeking to engage in "anything to distract from the fact that they won't unseal the details of their secret deal with their Chinese allies."
Dr Minnis also questioned the government's "election year optimism" over Baha Mar's expected soft opening in April, particularly when the resort "has yet to engage in any significant marketing to draw people to the new resort."
Dr Minnis also questioned why, with less than a month until the soft opening, have the resort's new owners failed to acquire a casino licence.
On Tuesday, Mr Fitzgerald said when the $3.5bn mega resort has its soft opening next month, Dr Minnis must resign because of his continued negative pronouncements regarding Baha Mar, particularly that the West Bay Street project would not open.
Speaking to reporters following the morning session of Cabinet, Mr Fitzgerald said previous comments attributed to Dr Minnis regarding Baha Mar were "unfortunate" and had a negative impact on the progress of the development and its employees.
PLP Chairman Bradley Roberts echoed similar sentiments, questioning whether Dr Minnis would issue a statement of congratulations to the government and the new owner of Baha Mar. Mr Roberts said failing to do so would affirm that former developer Sarkis Izmirlian still has Dr Minnis "on the leash."
Prime Minister Perry Christie has also hinted that Dr Minnis should be "ashamed of himself" for hoping the resort would fail in order to gain political mileage.
"Nothing could be further from the truth as we have stated publicly all along," Dr Minnis' statement said.
"Claiming that the FNM is rooting against the opening of Baha Mar is simply another political ploy (Mr Christie) and (Mr Fitzgerald) will engage in," he continued. "Anything to distract from the fact that they won't unseal the details of their secret deal with their Chinese allies."
On Tuesday, in the absence of a casino operator license and no definite answers on when guest reservations will be accepted, China Construction America (CCA) officially "transferred" the mega resort to Hong Kong-based Chow Tai Fook Enterprises Ltd (CTFE).
The transfer was executed by CCA handing over to CTFE its temporary certificate of occupancy, which now allows visitors to occupy rooms and utilise other amenities.
At the time, Graeme Davis, CTFE Bahamas president, said the resort would begin taking guest reservations "very soon" with the launch of Baha Mar's advertising campaign.
He went on to suggest that non-paying guests would "fill" the resort on its first day of operation, explaining that guests were "invited" for Baha Mar's celebration and ribbon cutting to commemorate its opening.
Officials plan to launch the stalled resort in phases beginning with a soft opening on April 21. At that time the golf course, the Grand Hyatt, and convention centre and other amenities will be opened.
"The PLP calls it a 'soft' opening but as the details continue to leak out, the Bahamian people are left with the sinking feeling once again of what amounts to a 'fake' opening as they hear things like the resort is not taking reservations for this opening," Dr Minnis said in response.
"How can the people share the PLP's election year optimism when the hotel is still not taking reservations on their website? How can Bahamians be happy if Baha Mar has yet to engage in any significant marketing to draw people to the new resort? With less than a month to this opening, why has Christie's allies failed to secure a casino license?"
He added: "The Bahamian people have suffered through fives years of empty rhetoric and broken promises from this inept Christie government. So before they join in the PLP's latest celebration, they want to make sure it's not premature, and the only way to know that is to continue demanding truthful answers to all these unanswered questions surrounding their deal."
Last month, Robert Sands, Baha Mar's senior vice president of government and external affairs, told Tribune Business that CTFE had agreed "to take possession and operate portions of the resort" until its deal with the China Export-Import Bank could close.
Mr Sands' comments came after Mr Davis triggered a renewed onslaught from opposition politicians by confirming that Baha Mar will open without its sale being complete.
Earlier this month Dr Minnis pledged that his party will "engage and execute a real sale" of the Baha Mar resort "to a qualified and respectable purchaser who believes in Bahamians," should the FNM party win the next general election.
In a statement posted on his Facebook page, Dr Minnis also said this buyer would use only Bahamian labour to complete the beleaguered resort, while again promising that his party would make public the details to the Baha Mar deal and any other government dealings with Chinese investors.