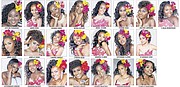 ON Sunday, at the newly refurbished SuperClubs Breezes Resort, the Miss Teen Bahamas Pageant Organisation will present the 22 young women vying for the Miss Teen Bahamas 2017 crown.
The contestants' debut kicks off a 12-week programme, which includes make-up application classes, communication and public speaking coaching, self-defence, financial management and investment, health and nutrition counselling and boot camp – culminating with the 2017 Miss Teen Bahamas Competition, on Sunday, May 28, under the theme "Made in the Bahamas".
"We are not a beauty pageant," said Anthony Smith, president of the Miss Teen Bahamas Organisation. "Our overall aim is to develop a programme that assists young women with life skills in preparation for college and successful careers."
Last year, Ariannah Wells, a 17-year-old student attending Cyber Technology, and majoring in agricultural science, won the crown, as well as a $90,000 scholarship to attend Liberty University in Lynchburg, Virginia. Ms Wells matriculates this fall.
The first runner-up will receive a $30,000 scholarship, the second runner-up will receive a $20,000 scholarship and all other contestants receive $18,000 partial scholarships to attend the university.
The Miss Teen Bahamas' partnership with Liberty University was launched in March 2016.
Liberty University is the largest Christian college in the world. In keeping with the university's admission requirements, a minimum grade point average of 2.5 is one of the criteria for entry into the Miss Teen Bahamas Pageant.
Tickets can be purchased at the Eye Candy Make-Up Store in the Harbour Bay Shopping Plaza and Paramount Fitness on East Street South. Tickets cost $25 and can also be purchased at the door. Additional information can be found on the Miss Teen Bahamas International Facebook page and www.missteenbahamas.org. Persons can also email mtbipageant@gmail.com for more details.