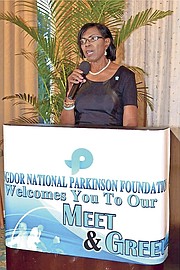 By ALESHA CADET
Tribune Features Reporter
acadet@tribunemedia.net 
MEMBERS of the Kingdor National Parkinson Foundation are doing their part in giving hope to those suffering with the degenerative disorder here in the Bahamas.
Following a fun run/walk last weekend, the foundation is now gearing up to host its annual gala ball to raise money in the fight against Parkinson's disease.
The ball will be held at the Meliá Nassau Beach Resort on April 29 – the end of Parkinson's Awareness Month. This year's theme is "Keeping Hope Alive".
One of the highlights of the night will be a live performance by Grammy Award-nominated singer/songwriter Jeffrey Osborne and his band LTD.
Mr Osborne has written hits for musical greats such as Whitney Houston ("All At Once"), appeared on USA for Africa's fundraising single, "We Are the World", and had the highest-charting hit of his career duetting with Dionne Warwick on "Love Power". He is probably best known for his song "On the Wings of Love".
Parkinson's disease is a progressive disorder of the nervous system that affects movement. It develops gradually, sometimes starting with a barely noticeable tremor in just one hand.
Over the years, the foundation has helped more than 1,000 persons by way of organised functions such as training for caregivers, gala events, walk/run competitions and a speech competition for which they train younger persons to understand and learn about the disease. In April 2015, the organisation for the first time joined other countries around the world in observing Parkinson's Awareness Month.
Last Saturday's fun run/walk event started at Montagu Beach and was held under the theme "Moving Day".
Kingdor founder and chairperson Mavis Darling-Hill said "Moving Day" is the grassroots initiative designed to encourage movement of the body of any sort. 
"We know that just one day would not actually take the place of exercising on a regular basis, but it is the beginning. Studies have shown that exercising is important on many levels as it is helpful mentally, physically, socially, spiritually, and the list goes on. Some persons feel like they don't have time to exercise, and walking up and down at work does not count as exercising. Exercise is an important part of what we do," she said. 
Mrs Darling-Hill has a personal experience with Parkinson's, having watched her father, the late Rev Dr King S Darling, struggle with the disease. Even when her father got to the point where he could not buckle his own shoes, she kept him motivated.
"With that disease you have to really depend solely on your family. At that point he didn't hide it. He told people his challenge and in the process he sensitised persons about the disease, even though he was going through it. I thought my world was collapsing around my family and me. Coping and managing the condition was very taxing because there was little material available and there was little on the internet at the time. Nevertheless, everything we found on the topic of Parkinson's disease was copied and shared between my siblings. It was a new world for us because the word Parkinson's was very strange and unknown," she recalled.
After the death of her father eight years following his diagnosis, she along with her siblings and friends banded together to establish the Kingdor Foundation.
It was established in memory of her parents and the name is a portmanteau of their names, "King" and "Dorothy".
Mrs Darling-Hill said she is happy to know that more and more persons are becoming educated about the disease in the Bahamas. She hopes to prevent others from enduring what she and her family had to go through many years ago.
"We feel like we have done a lot to educate the Bahamian people. We talk to persons on the street and they have heard about us and the services we offer. We also want to give them some hope in terms of seed monies for medication. We are also glad that you all, the media, continuously tell the story, that it is not embarrassing to have Parkinson's disease," she said.
In addition to the upcoming ball, the foundation will host its annual speech competition in November. More details to follow via the organisation's Facebook page: Kingdor Parkinson.