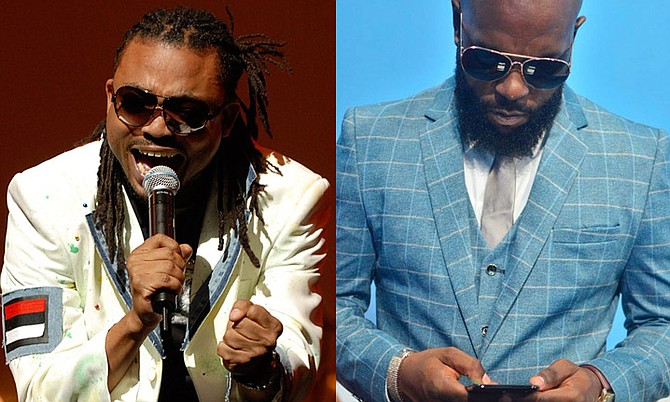 By RASHAD ROLLE
Tribune Staff Reporter
rolle@tribunemedia.net
MACHEL Montano and Bunji Garlin, the Trinidadian singing stars, will headline this year's Bahamas Junkanoo Carnival, officials of the Bahamas National Festival Commission (BNFC) revealed yesterday.
BNFC CEO Roscoe Dames also said the event will be streamlined compared to past years because of financial constraints.
The government will reduce its subsidy to the festival by as much as 50 per cent.
Last year, taxpayers contributed about $8 million to the festival, which brought in $578,342 in revenue, costing more than $9.8m overall.
In 2015, the government spent $11.3m on the inaugural festival, going over its initial budget of $9m, with the rest covered by sponsors. The first Junkanoo Carnival cost $12.9m overall.
Because of the financial constraints, the event this year will take place in the cultural village at Arawak Cay only. "Clifford Park is no more," Mr Dames confirmed. Despite the financial cutback, Mr Dames vowed that production quality will not be diminished.

The events in Nassau will take place May 4-6. General admission will be $25 per night or $60 for the weekend package. VIP tickets will go for $75, with a $180 weekend package. Skyboxes, which can hold 20 persons, will cost $10,000.
Tickets can be purchased online from Cash & Go, which also has 14 physical locations. The tickets have not yet gone live for sale.
The Grand Bahama events, which will take place on April 28 and 29, cost $20 in advance and $25 at the gate. The two-night package costs $40.
Block parties will be held in the coming weeks to raise anticipation for Junkanoo Carnival. They will take place downtown in the square next to Pirates of Nassau on April 6, 13, 20 and 27.
Junkanoo Carnival was introduced by the Christie administration two years ago with the promise that it would attract many tourists to the Bahamas, expanding on the tourism product. So far, however, the festival has mainly attracted Bahamians.
Mr Dames could not yet reveal the commission's projections and targets for tourist arrivals and attendance yesterday, he said, as the matter is still being assessed.

Officials have also said the festival has succeeded as a stimulant for small and medium businesses, 278 such businesses and 696 people benefitting directly from the expenditure related to last year's festival, officials said.
Some 39,700 people attended the festival in Nassau last year and 21,000 in Grand Bahama.