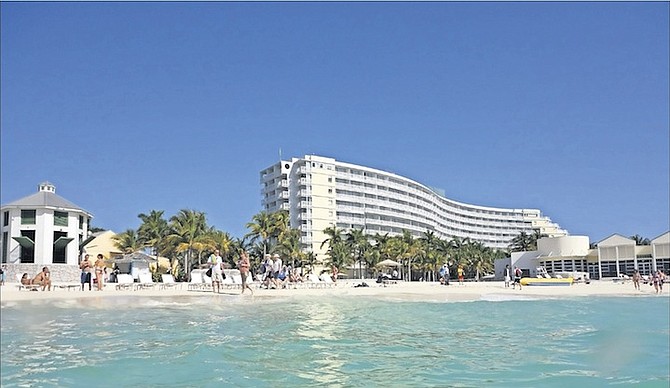 Carey Leonard continues his series looking at the detrimental effects of Chinese investment in the Bahamas with a look at what it should and could have done in Grand Bahama
Since the mid-1990s, The Bahamas has encouraged Chinese foreign direct investment.
Most notable of these are the investments that have been made by what was Hutchison Whampoa in the Freeport area in Grand Bahama and the Chinese government-controlled China Construction America, through its wholly-owned Bahamian subsidiary in the Baha Mar resort project on Cable Beach and The Pointe in downtown Nassau.
In 2015, Hutchison Whampoa split into two entities. The Container Port, energy, retail side etc is now called CK Hutchison Holdings Ltd, and the real estate, hotel side etc is now called Cheung Kong Property Holdings Ltd. As both entities are basically owned by one of the richest men in the world, Li Ka-shing, they will collectively be referred to as "Hutchison".
Interestingly, both these holding companies were incorporated in the Cayman Islands even though Hutchison had well over a billion dollars invested in The Bahamas.
Financial strength
According to the Shareholders Interim Report, for the first six months of 2016, CK Hutchison Holdings Ltd made US$ 2.5bn (earnings after taxation), or roughly $420m a month, or around $20m per working day. Cheung Kong Property Holdings made US$1.129bn (earnings after taxes), or a little under $200m per month, or a little under $10m per working day.
Note that these figures are "profit after tax".
So the Hutchison companies make a profit of about US$30m per working day.
No wonder The Bahamas was, in the 1990s, so keen to attract such a large and successful conglomerate to Grand Bahama. So why has Hutchison, after 20 years of investment, failed to deliver anything more than a few extra jobs?
Yes, the Container Port was a new industry, but all they did was to replace three or four existing hotels on the Lucayan strip. There are fewer people working on the Lucayan strip than before Hutchison's arrival. Therefore, although a number of new jobs have been created at the Container Port, these jobs need to be reduced by the number of jobs lost in the Lucayan strip. It is most likely that the employment numbers have not gone up as a result of Hutchison's direct investment.
On the positive side is the indirect creation of the Grand Bahama Shipyard, which employs not less than 500 and sometimes many more, depending on the number of ships in for repair or the type of repair required.
But apart from the shipyard, Hutchison has nothing to show for the over 20-year management of its assets in Grand Bahama. It is unable to show that it has sold any Grand Bahama Development Company Ltd ("Devco") land that has resulted in any meaningful direct investment, foreign or domestic.
The only non-Chinese investment of comparable size that we have seen in The Bahamas since 1992 has been that of Sol Kerzner's Atlantis and that is about 70 per cent of Hutchison's investment. For less investment Mr Kerzner was able to create at least 10,000 direct and indirect jobs for Bahamians.
Incompetence
Think what 10,000 additional jobs could do for Grand Bahama. Other than incompetence or negligence by Hutchison's management there is absolutely no reason why 10,000 new jobs have not been created on Grand Bahama by Hutchison.
As can be seen by its profits, Hutchison is perfectly capable of funding very, very large investments. So what does Hutchison have to work with in Grand Bahama?
• Management ocntrol of Freeport Harbour
• Management control of Grand Bahama International Airport
• Management control of Sea Air Business Centre (740 acres undeveloped)
• Management control of Devco (70,000 acres of undeveloped land)
• Management and ownership control Freeport Container Port
• Management and ownership of Grand Lucayan/Our Lucaya hotel complex
• Management and ownership of Lucayan and Reef golf courses
• Management control of the Lucayan Service Company
• A conglomerate that makes a net profit of US$500m a month

Hutchison is Devco in the 1960s pumped up on financial steroids.
A review of what Devco controlled in its heyday of the 1960s shows that it controlled the Harbour, the Airport, and owned the 70,000 plus acres of land. It also owned the power company - though that can be more of a liability than an asset- but it did not own any hotels and had no control over 1,100 rooms.
Most importantly, the Devco of the 1960s never had the cash resources that Hutchison has.
When it comes to the economy of Freeport, it is Hutchison, not the Grand Bahama Port Authority, that can make or break Freeport. Hutchison has the "control", not the Grand Bahama Port Authority. Therefore it is clear that Hutchison has the money and they own or control, or own and control, everything that is needed to make things work.
What should and could have been done by Hutchison?
With respect to the hotel, Hutchison did not have to look any further than 120 miles south at Atlantis. Sol Kerzner, took a small relatively unknown and bankrupt hotel with a golf course, spent $500m on refurbishments, the installation of a water attraction and promotion and created the globally recognised Atlantis resort destination.
Hutchison should have easily been able to promote its $400m plus hotel complex and two golf courses as its management is located in the most populous part of the world. In addition, it is also one of the wealthiest. In US dollars there is a large number of millionaires, not to mention billionaires.
• China has over two million millionaires.

• China ranks second in the world for billionaires with over 250.

• Hong Kong is ranked separately with over 60 billionaires of its own.
So it is clear that Hutchison has a large populous and wealthy market to tap into.
Yet, the Grand Lucayan/Our Lucaya is sitting virtually empty, it only has a very small portion open and the fact that it is advertising to the local market for Easter lunch, "high heel, lipstick and bow tie Happy Hour" is a clear indication that it has little or no business. Its restaurants open on different days as they don't have the guests to keep them open all the time.
They should be required by government to bring a minimum number - say 30,000 room nights of guests per year - to the Grand Lucayan/Our Lucaya hotel complex with a local spend of not less than $1,250 ($37.5m total). They should also be required to properly maintain the Lucayan and the Reef golf courses. All as a part of the Real Property Tax exemption that the Bahamas has conditionally granted to Hutchison.
Why is the Grand Lucayan/Our Lucaya not awash with wealthy Chinese visitors? If Sol Kerzner could fill and keep the Ocean Club, now the One&Only, constantly operating with $1,000 a night room rates, so should and could Hutchison keep the Grand Lucayan/Our Lucaya full with good paying guests who can easily spend over $150 per person for dinner.
Abject failure
They have no excuse for their abject failure. Hutchison has several hotels around the world in cities. If they could not run the Grand Lucayan/Our Lucaya, Hutchison should have sold the hotel rather than make the entire Bahamian public suffer. The Chinese management was, no doubt, busy saving face and not letting Mr Li and the upper management know what a mess they were making.
It is clear from a read of the shareholder reports that the other assets of the property group make enough money so that the failure here can be buried in the financials and neither Mr Li, nor the other investors, would see what a mess the management in Hong Kong was making.
In the meantime hundreds of hotel jobs have been lost. The end result is that Grand Bahama would have been better off if Hutchison had never redone the Lucayan strip.
In fact, Grand Bahama would have been much better off with investors like Eric Christensen who built the Pelican Bay Hotel.
The Pelican Bay Hotel does much more for the Bahamian-owned businesses in the Port Lucaya Market Place on the Lucayan strip than the Grand Lucayan/Our Lucaya ever does because, unlike the Grand Lucayan/Our Lucaya, the Pelican Bay Hotel has guests who go to the Lucayan Market Place, dine and drink in the restaurants and bars and purchase items in the shops.
There has been the complaint that the cost of the Airport is too high. A good part of the problem is the very low passenger throughput and Hutchison is the reason for that. They can, and should, remedy this if they ran their hotel and property divisions properly.
Indeed, the Airport should be subsidised by the hotel and Devco to make it cheaper to come to Freeport. This is what Devco did in its heyday.
Next to be considered is the land sale company Devco with its 70,000 acres of undeveloped land. This infrastructure is being maintained at the expense of hard-working Bahamians and other residents who own property in the Freeport area (legally known as the Port Area), not at Hutchison's expense, as Hutchison pays no Service Charges.
The Chinese investor is taking the money of hard-working Bahamians to take care of its property and the Bahamas government has done nothing. Indeed, by the Incentives Act, the government seems to have endorsed this abuse of their fellow Bahamian citizens.
To add insult to injury, Hutchison took most of the property off the market, putting a stop to land sales and thus killing the construction industry, which has been forced to lay off (not employ) hundreds, if not thousands, of construction workers. In addition, since there are no homes and buildings being constructed, there are fewer maintenance jobs, fewer taxi rides, fewer restaurants (most of which are owned by Bahamians), fewer retail requirements.
There have been several reports of intended projects on the Barbary Beach property, yet nothing has happened. Considering the way Hutchison dealt with Memories, it is clear that the reason nothing has been developed is because Hutchison has stopped it. They should have allowed one or more with the resulting boom to the Bahamian economy and employment.
It can be seen that Chinese investment is not good for the Bahamas.
Good faith
The Airport was approached several times by Fixed Base Operators (FBOs) who would have built and operated an FBO like Odyssey in Nassau. Hutchison does not negotiate in good faith: either you give them everything or nothing happens. They should have allowed at least one proper FBO to have been constructed. The operators have regular customers who they would have brought to Grand Bahama and helped the economy, not to mention the revenue at the Airport.
Again, it can be seen that Chinese investment is not good for the Bahamas.
The SeaAir business could easily have been developed. The cost would probably be in the neighbourhood of $100million - less than one month's net profit of Hutchison. It is perfectly located between the Harbour and the Airport for goods to come in by ship and then be broken up and processed in the SeaAir Business Centre before being flown out by air freight. For example, an Amazon type of operation.
Think of the employment and revenue all of this would create for the Bahamas.
For example, the costly delay (in terms of jobs and revenue for the Public Treasury) caused by China Construction America ... Hutchison has done the same but on a larger scale.
Hutchison is used to situations where it is liable if it does not complete a project within a certain timeframe or do not do it properly. There is a warning in their property division to shareholders about this.
With investors, other than the Chinese, the Bahamas has been able to rely on their moral sense of doing the right thing. It is clear that the Chinese have no moral sense at all. They don't care who gets hurt as long as they can screw every last penny out of anyone they come in contact with, be they be the very Bahamians who have allowed them into their country.
It is clear that Chinese investment is bad for Bahamians.
• Carey Leonard is a commercial lawyer and an associate in the law firm of Callenders & Co in Freeport. Grand Bahama. Comments and responses to insight@tribunemedia.net