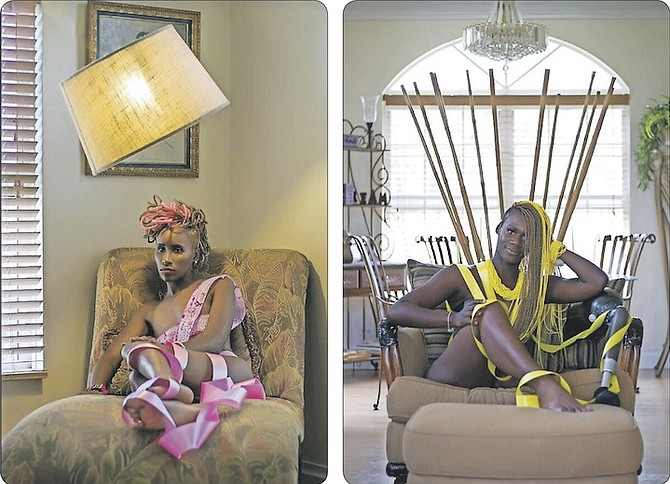 By JEFFARAH GIBSON
Tribune Features Writer
jgibson@tribunemedia.net 
THE compelling stories of Bahamian cancer survivors Rika Cargill and Erin Brown will be told through the eyes of international artists as part of the upcoming 'Brushes with Cancer' initiative out of Chicago, Illinois.
Both survivors have never been shy sharing their experiences with others, so when approached about having an artist document their stories in a unique way, Rika and Erin both eagerly accepted.
Many people who battle cancer do so without anyone ever knowing. However, Rika and Erin believe that there is power in sharing, and that their strength to carry on has a lot to do with their courage to face cancer head-on from an open and honest place.
Now, by participating in this project, both survivors, who have already shared their personal journeys on social media over the years, will have an even greater reach.
'Brushes with Cancer' is spearheaded by Twist Out Cancer, an organisation founded in Chicago by Jenna Benn Shersher that provides psycho-social support to cancer survivors and their loved ones through creative arts programming. 
Through 'Brushes with Cancer', the organisation helps to meet its mandate by creating unexpected intersections between artists and those touched by cancer.
The initiative strategically matches artists with those touched by cancer to create unique pieces of artwork reflective of their journey. Over a period of four months, 50 selected pairs of artists and survivors will connect in person, via Skype, on the phone or by e-mail. Their relationships are guided and supported by Twist Out Cancer volunteers with the intention of creating a support system for both the artist and the subject. The programme finishes on a high note with a signature celebratory art exhibition, gala and auction where the artwork is revealed for the first time.
The launch event will take place in June, while the unveiling of artwork and gala take place in September.
This will not be the first time Rika and Erin have worked with artists. In fact, just recently Rika, who was diagnosed with stage 3 breast cancer in 2012, took part in a body painting session with local artist and photographer Monty Knowles. 
The photos of Rika's body painting session went viral and made their way onto several international blogs. That was when August Beddingfield, a representative from 'Brushes with Cancer', became aware of her story and reached out to her. 
"I must say, I've picked up quite an amount of followers that have been inspired by my story," Rika told Tribune Woman.
"Shout out to the Facebook family, especially Jessica Bond Maltalbano who made an effort to reach out to me after she read my posts and was positively impacted by my body painting that was done by Monty Knowles. She told me about the event that is held every year and asked if I would like to be a part of this amazing journey and share my story internationally. That of course was a big yes from me. But knowing the effects that cancer has in the Bahamas, I made a choice not to take this journey alone. I wanted to share it with someone else who has inspired me and has fought the fight as well. That person is none other than bone cancer survivor Erin Brown. What can I say, I'm a team player."
Erin was diagnosed with osteosarcoma in April 2004. Her knee joint and thigh bone were affected and her muscles had been compromised.
Over the past 13 years, being an above-the-knee amputee and a cancer survivor living in the Bahamas has made Erin's life into "a reality show" at times. She was also recently dubbed a 'CanceVivor'.  
Her participation in 'Brushes With Cancer', she explained, is to honour the lives of those who have touched her life, and they include: Gennie Dean, Melissa Major, Ghia Butler, Paul Armbrister and Camika 'Vee' Nairn. 
"These years have placed me on many highs and enormous lows, yet I am still here; loving life, bringing awareness and avenues for creative expression. I am a mother of two bright stars whose lives are tied into my survival, hence I am all in. My inspiration stems from society labels like 'disable',  'cancer', 'mother' and 'women'. My purpose in this lifetime is to redefine what happens when all of that collides. Being selected over thousands of entries worldwide for this coveted programme is definitely an honour," she said.
Ultimately, Erin said she hopes people will feel encouraged and inspired to press on in their personal journeys.
"Fear doesn't prevent death; it prevents life," she said. "Dealing with cancer is a life-changing experience for not only you and your loved ones; your community at large feels the effect. Yes, I am vocal, active and bold in my purpose. I am an advocate for differently-abled as a paratriathlete. And by no means is that everyone's purpose, path or journey. Knowing your presence is valued for whatever time is given is important. You are a piece of priceless 'art'. Support a 'CanceVivor' whenever you can; share a smile, spend some time, uplift in prayers, offer job opportunities, invest in their kids and remind them life begins on the other side of fear," she said.