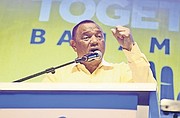 By DENISE MAYCOCK
Tribune Freeport Reporter
dmaycock@tribunemedia.net
THE government and Carnival Corporation signed heads of agreement yesterday for the construction of a new $100m cruise port destination in East End, Grand Bahama.
The port – described as "the largest ever cruise development project on Grand Bahama Island" – expects to create an exceptional destination experience to more than one million cruise guests annually.
The signing was held at the Grand Lucayan Resort Tuesday evening, where Prime Minister Perry Christie and Carnival Corporation CEO Arnold Donald expressed optimism about the project and the potential impact it will have on Grand Bahama.
Also attending were Minister of Tourism Obie Wilchcombe; Minister of Labour and National Insurance Shane Gibson; Minister of Transportation and Aviation Glenys Hanna-Martin and Attorney General Allyson Maynard-Gibson.
According to Mr Christie, the project will consist of 226 acres of land in eastern Grand Bahama, and will take 24 months to build after all relevant government approvals.
The new cruise port will encompass multiple projects inclusive of construction of the channel, docks, water taxi and workboat piers, berthing platforms, seawalls, and a turning basin to accommodate two super post Panamex Ships.
The expansive Shore Project will include a 20-bed hotel, an 18-hole miniature golf course, restaurants, food and beverage pavilions, shops, nightclubs, amphitheatre, aquatic and other recreational and sporting facilities as well as pedestrian and cycling trails. There also will be interactive amenities, such as stingray and dolphin encounters, animal exhibitions and petting zoo.
Mr Christie indicated that central to the overall development will be the construction of a "harbour town" with retail shops, a Bahamian art plaza and such back of town facilities as storage and security houses, administrative complexes, utility services and a transportation hub offering more entrepreneurial opportunities for local taxi and tour operators.
"Ladies and gentlemen, the projected impact of Carnival's cruise port on employment cannot be overstated. Bahamian entrepreneurs operating at the new port will need to draw on a wide range of local vendors such as sub-contractors, architects, landscapers, tradesmen, technicians, security, marine specialists, retail workers and other service specialists," he said.
"As development of this new cruise port takes place, the government will work with cruise lines, owners of the harbour, other stakeholders, local entrepreneurs, taxi drivers and tour operators to make Freeport Harbour and the city itself more attractive to cruise visitors," he said.
Prime Minister Christie stated that the HOA signed with Carnival was made possible following painstaking and lengthy negotiations between government and the principals of the Freeport Harbour Company to negotiate a waiver of exclusivity agreement of their exclusivity rights on all ports in Grand Bahamas, which had been granted by the previous FNM administration.
"My government welcomes this opportunity to set in motion events which will memorialize the longstanding and mutually beneficial relationship between Carnival Cruise Lines, the world's largest and most successful cruise line, and the Bahamas," he said.
Carnival Corporation CEO Arnold Donald described the signing as "a historical day" for Carnival Corporation.
"I am very pleased that this port is now on track to become a reality," he told the gathering.
"We have been committed for a long time to developing a new and authentic Bahamian experience port. In fact, we were working for the better part of 15 years, and renewed our momentum over the last three years.
"The port will create an exceptional experience for what over time will be more than one million guests annually visiting the Bahamas on a number of our world leading cruise lines," he said.
He noted that Carnival already brings over three million guests throughout the Bahamas across its various lines – Carnival Cruise Lines, Princess Cruises, Holland America, and several others - including lines from Europe.
"It will, of course, be the largest cruise development project ever on (Grand Bahama) - it will be truly spectacular. It is the next generation of destination experiences, and it will bring more guests here," Mr Donald said.
He indicated that there will be many opportunities for Bahamians during the development and construction of the new port, and continually through its day-to-day operation.
There will be entrepreneurial opportunities for Bahamians to be restaurant operators, retail owners, short excursion operators, and transport providers, he said.

Mr Donald also stated that Bahamians will supply a wide variety of goods and services to the new port.
He said Carnival Corporation continues to be the largest cruise line invested in the Bahamas, which includes significant investment in the Grand Bahama Shipyard, and two private islands - Half Moon Cay and Princess Cay, and a variety of other initiatives.
Tourism Minister Obie Wilchcombe said the signing represents the start of the rebuilding of the tourism plant in Grand Bahama.
"It is a major step that will cause Grand Bahama to take its rightful place in the growth and economic development of the Bahamas," he said.
Mr Wilchcombe recalled that the new port was initially intended for Williams Town, but it did not happen due to challenges, and is now going to be built in East Grand Bahama.

Sarah St George, vice chairman of the Grand Bahama Port Authority Ltd, said the new port is "a major leap forward in Grand Bahama's history."
"This is a big deal, she said, and added that it is a "win, win" for the island.
"What is even better is this is not going to be a closed cruise port on a remote island, and the economic spinoff is that to be enjoyed by everyone," she said.