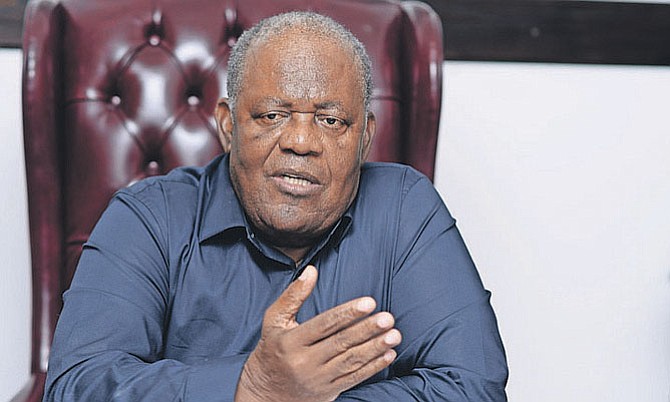 By TANEKA THOMPSON
Tribune News Editor
tmthompson@tribunemedia.net
FORMER Prime Minister Hubert Ingraham last night said no matter which party is elected to office on May 10, the government will be unable to give police officers overtime pay on May 29 as promised by Prime Minister Perry Christie because "the money ain' there" in the Public Treasury.
He also told supporters that if the Free National Movement (FNM) wins the election, one of the first things it will have to do is "borrow tens of millions of dollars to pay bills that the PLP government is now unable to pay" and thus will not be able to fulfil some of its campaign promises right away.
Mr Ingraham also accused the Progressive Liberal Party (PLP) of trying to censor the FNM, by not allowing the opposition party to hold rallies on Clifford Park or broadcast these events on ZNS.
He also again raised the allegation that more than $800,000 was recently stolen from the Ministry of Finance, suggesting that theft was widespread in the public sector.
"You know after years of fighting the Police (Staff) Association . . . and ignoring the court order, they finally agreed that they are going to pay overtime to the police," Mr Ingraham told supporters at a rally in South Abaco.
"Unfortunately they ain' ga be around when they say they going to pay. They said they going to pay on the 28th or the 29th of May, well they ga be gone long time by then.
"And so the police officers and the defence force officers and all others who are voting (today) be assured that the FNM will honour the judgment of the court.
"And speaking for myself, there is no way that either the FNM or the PLP going to be able to pay you on the 28th or 29th of May. The Treasury ain't got that money. They money ain't there. Don't let nobody lie to you."
Last week, Mr Christie announced the government would finally give police officers overtime pay due for 12-hour shifts worked in 2013 and 2014. He said the first payment would come on May 29 and the second in the next budget cycle.
Mr Ingraham also responded to the Ministry of Finance's statement issued yesterday, calling on him to provide information to police on his allegation Monday that more than $800,000 had been stolen from the ministry.
"They got the information," he said. "They want know what I know."
He added: "Do you believe the police will be motivated to investigate this allegation eight days before the general election when in the meantime they have yet to deal with the multiple reports on the allegations of abuse in government department?"
He referred to several outstanding investigations or unresolved allegations from Auditor General Terrance Bastian over the past few years which have faded from headlines and questioned if anything ever came of these matters, including $700,000 in cash and cheques not deposited on the Department of Customs' bank account in Abaco.
This matter was first reported in 2014.

Defence
And while he has shied away in the past from publicly endorsing his successor, Mr Ingraham defended FNM Leader Dr Hubert Minnis from attacks last night.
On Monday, Mr Christie called Dr Minnis "weak" and the most "unprepared" candidate to ever vie to be prime minister.
In response, Mr Ingraham said: "We all have a season. My season ended. Perry's season will end next week. Dr Minnis has good business acumen, he is in his early 60s, he is physically fit - not like me and Perry. He is focused and he is determined. He has put together a good team to form the next government of the Bahamas."
He also accused the PLP of being undemocratic this election cycle.
"They are not very democratic the PLP," Mr Ingraham said. "We are supposed to be living in a democracy. How come therefore, that the FNM is unable to obtain bookings to have a rally at Clifford Park in Nassau?
"How is it that Clifford Park is off limit for the FNM but on limit for the PLP? How is it that the FNM has been unable up to yesterday (Monday) to book and pay for its rallies to be carried live on ZNS?"
He said when the FNM was in power, the PLP was able to broadcast its political events on the public station and host rallies at Clifford Park.

Meanwhile as he continued his party's election campaign last night, Dr Minnis pledged to be a new type of leader, promising a Crop Forecasting Information System, a Coral Reef Protection Act and a land registry if elected to lead this country.
He also repeated promises to introduce fixed election dates and campaign finance legislation.
He also said: "To protect the local poultry market and farm products, first and foremost all government agencies and institutions, ie hospitals; prison; schools; and ministries will be required to purchase and utilise all local Bahamian grown products as a part of their menu.
"To ensure regular flow of farm products, my FNM government will introduce a Crop Forecasting Information System. We will also introduce and enforce a Coral Reef Protection Act."
The FNM will hold a mass rally in Nassau tonight at the Q E Sports Centre.