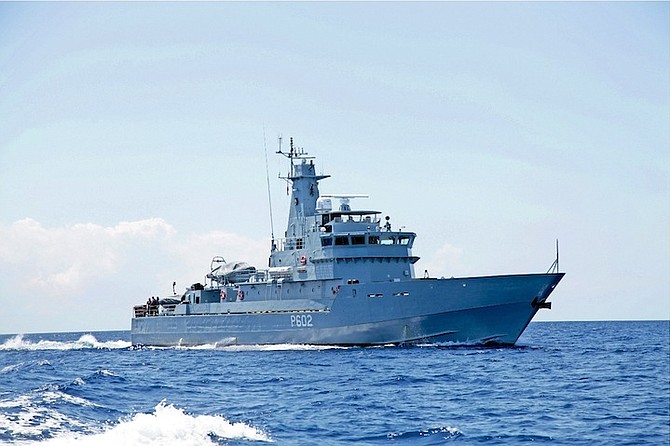 THE first of the Royal Bahamas Defence Force's Bahamas class vessels to be able to dock at Coral Harbour base has arrived after an eight-month refit, adding a patrol craft to the active fleet.
After undergoing extensive maintenance and repairs overseas at the Maaskant Shipyards in Stellendam, Holland, Her Majesty's Bahamian Ship Nassau docked at the Defence Force Base for the first time last week under the command of Commander Gregory Brown. The 200ft vessel arrived in the capital after sailing for 18 days.
HMBS Nassau's ship's company weathered rough seas during the transatlantic voyage, calling at Madeira - a Portuguese island off the north west coast of Africa - for replenishment of supplies.
The docking of HMBS Nassau at the Coral Harbour Base was made possible by the multi-million dollar Sandy Bottom Project. The 2014 signed agreement between the government, Damen and VAN Oord allocated funds for the acquisition of nine patrol craft and the refit of two Bahama Class vessels. The agreement also included harbour dredgings, as well as improvement and creation of adequate jetties, docks and breakwaters.
Coral Harbour Base was unable to accommodate the Bahama Class vessels prior to being dredged. HMBS Nassau becomes the first of the Bahama Class vessels to be facilitated by the newly dredged harbour.