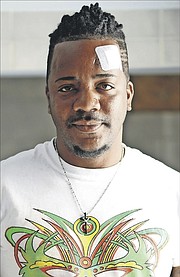 THE Bahamas National Festival Commission said while it has been made aware of reports of an alleged fight at a Bahamas Junkanoo Carnival event, no official report has been filed with the organisation or police.
However, last night, Senior Assistant Commissioner of Police Stephen Dean said a report was made to the Central Police Station and that a suspect was in custody.
On Monday, The Tribune reported that an American man, Adrian Brown, who was allegedly attacked by a group of persons during a BJC concert early Saturday morning said that he was "targeted and beat up" because he is gay.
While not referring to the specifics of the allegation, the BNFC said: "At this time, no official report has been filed with the Royal Bahamas Police Force or the BNFC in regards to this matter.
"We urge anyone with information to contact the relevant officials to ensure the matter is properly investigated and processed.
"The BNFC aims to provide a safe, world-class experience here in The Bahamas and has the support of the Royal Bahamas Police Force to ensure all attendees' safety and access to proper officials to handle all matters."
When contacted last night, Senior ACP Dean said: "No complaint was reported to the officers out there (at the BJC event). I think the guy went to Central Station, I understand someone is in custody."
On Sunday, Mr Brown, a Navy officer who came to the Bahamas to participate in Junkanoo Carnival, said he was dancing at the concert late Friday into early Saturday when he felt someone throw water on him.
"So I was at the concert and there was a stoop and I stepped up on the stoop and I was dancing," Mr Brown told The Tribune.
"This was about 3am in the morning. So I am dancing and having a good time. I had on a cut out shirt and fitted pants and I felt when some water hit me. So I looked back and I got up off the stoop and I said to the guy, 'Why did you hit me with the water," and he said 'Because you a batty man,'" Mr Brown claimed.
"Batty man" is Jamaican slang for a homophobic slur. "Now I don't think he knew that I am originally from Jamaica," Mr Brown continued. "So before anything could happen his girlfriend came up in my face and slapped me and then four people just jumped me," he claimed.
"Two girls and two guys. Then two Bahamian men jumped in and started helping me. There was no conversation, they just started fighting me. I am not a fighter, I came here to The Bahamas to have fun, party and go back home. I don't know these people from Adam and they do not know me and they were hitting me and beating me in my head with a rock. He just said 'you are a batty man' and they all jumped me. After the incident the other two guys that helped me held one of the guys until the police came."
Mr Brown said he went to the police station and was taken to Princess Margaret Hospital a short time later but because of the long wait he went to Doctors Hospital where he was treated and discharged.
Mr Brown, who was born in Jamaica but lives in the US, said he will be pursuing the case when he returns to the US and he also plans on suing for medical bills and pain and suffering.