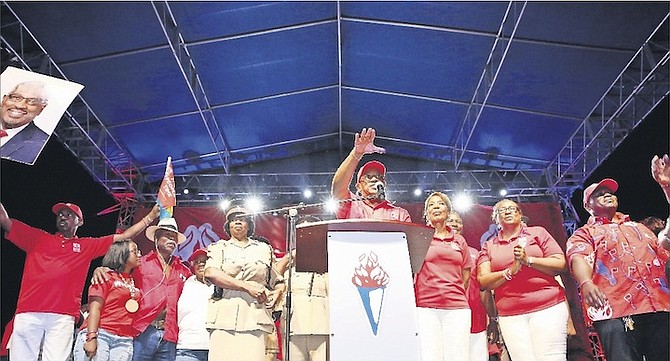 Cara Hunt looks at the doctor who rose from humble beginnings to unite a divided party and become leader of his country . . .
He is only the fourth person and first non-attorney in Bahamian history to run for and win the office of Prime Minister.
But last night Dr Hubert Minnis, 63, achieved what many thought he was not capable of as he led the Free National Movement to a decisive victory over the Progressive Liberal Party.  
He survived a vote of no confidence by seven of his party's parliamentarians and claims that he was too inexperienced to lead the nation and lacked the personality to sway the electorate.
However, voters proved yesterday that they were ready to 'Roc wit Doc'.
His win also marks an incredible new chapter for Dr Minnis, who rose from humble, impoverished beginnings in Bain Town to become a leading gynaecologist before entering politics. He took over the FNM leadership after Hubert Ingraham stepped down following the party's crushing defeat in 2012.
It also signals a new era in Bahamian politics, as Dr Minnis is the first non-career politician and the first doctor tobecome Prime Minister elect (as we must call him for the moment). He may appear to lack the charisma of Sir Lynden Pindling, Perry Christie and Ingraham, but he has shown himself to be determined - as evidenced by seeing off two leadership challenges from Loretta Butler-Turner - well organised and politically acute after the defection of the rebels last year seemed to leave the Opposition in tatters.
Dr Minnis was born in Bain Town to Rosalie North, a struggling seamstress, and Randolph Minnis, the proprietor of the well-known Minnis Service Station on Market Street.
He attended Our Lady's Primary School, Western Junior and St Augustine's College - a great financial sacrifice for his family. 
During his school years he worked many part-time jobs to support his studies, including selling newspapers, shining shoes and working as a tailor. 
According to the FNM's Killarney website, Dr Minnis has said: "I was always business-minded, even as a young high school student."   
He also worked at his father's service station, pumping gas and patching tyres. Even when he considered dropping out of school to work full-time, his mother insisted that he continue his studies.
He became the first member of his family to attend college. Growing up "Over the Hill", from an early age Dr Minnis rushed with John "Chippie" Chipman during Junkanoo. 
He joined the Saxons in 1990 and has rushed with them ever since as a beller or a bell ringer.
Dr Minnis spent his first year of his tertiary education at St Thomas College in Minnesota, before transferring to the University of Minnesota. There, he received his Bachelor of Arts degree in Biology.  
At the University of Minnesota, Dr Minnis was influenced by Professor Coleman, a nuclear physicist for whom he worked on experiments on the breakdown of atoms. Again, he had to work to help pay for his studies.  
Dr Minnis originally considered a career in marine biology, but his mother and sister encouraged him to pursue medicine instead.  
After obtaining his Doctor of Medicine from the University of the West Indies and his medical specialisation MRCOG (Member of Royal College of Obstetrics and Gynaecology) from London in 1985, Dr Minnis returned to Nassau and worked at the Princess Margaret Hospital.
During his 22-year career, he delivered more than 5,000 babies, the largest being 14lbs at birth.  
Dr Minnis is also a former president of the Medical Association of the Bahamas, a member of the Medical Council, the chairman of the Hotel Corporation of the Bahamas, and an associate lecturer at the University of the West Indies in Obstetrics and Gynaecology. 
Dr Minnis first ran in Killarney in 2007, saying at the time: "I have accomplished most of what I wanted to accomplish in medicine. I have trained younger doctors, and now it's their time to take over. Everything in life is about timing. I want to continue to be of service, but now just in a different capacity."  
He is married to the former Patricia Beneby and is the father of three sons - Tremaine, Jamil, and Runako. He worships at the Resurrection Catholic Church.
After he won his seat as Killarney's Member of Parliament in 2007, Dr Minnis was named Minister of Health, a position he held throughout the FNM's reign between 2007 and 2012.
And now thanks to the mandate his party has been given, he will have the chance to pursue his vision for the Bahamas - to see small businesses excel and at the same time for the government to engage in more strategic planning for preparing the youth for the future.