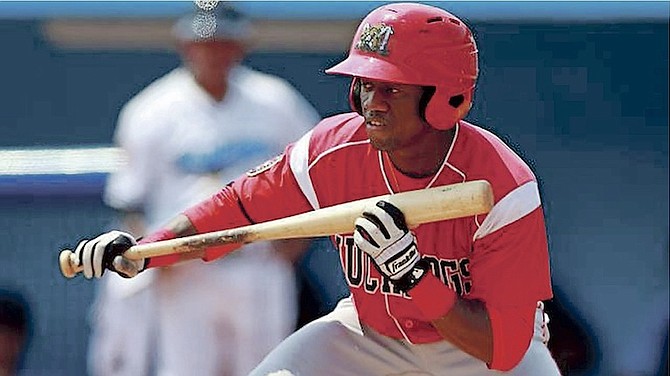 By RENALDO DORSETT
Sports Reporter
rdorsett@tribunemedia.net
It was another step on the path toward the Major Leagues for Anfernee Seymour as his progression continues in the Atlanta Braves Organisation.
Seymour was promoted to Class-A advanced and joined the Florida Fire Frogs of the Florida State League on Tuesday.
In his first game with the Fire Frogs, he hit leadoff, finished 1-4 and scored the only run of the game for his team in the Frogs' 2-1 loss to Daytona.
Prior to the promotion, Seymour, 21, was enjoying his most successful season at the plate in his young minor league career.
Through 28 games with the Rome Braves in the South Atlantic League, Seymour hit .287 with six RBI, an OBP of .345 and snagged eight stolen bases in 11 tries.
Last season Seymour was traded from the Miami Marlins organisation to the Atlanta Braves in a three-player deal which also saw the Braves acquire pitcher Michael Mader in exchange for relief pitcher Hunter Cervenka.
In 125 games last year with the Greensboro Grasshoppers and Rome Braves, Seymour hit .257 with 72 runs scored, 43 stolen bases and 31 RBI. He has recorded a slugging percentage of .303, an OBP of .296 and an OPS of .599 and 149 total bases. He also shifted from between shortstop and the outfield, but has settled into the outfield this season, which he told SBnation, has benefitted his game.
"I'm pretty much comfortable. It takes the pressure off me trying to be perfect in the infield and perfect at the plate. I'm not saying the outfield is easy, but it's less pressure for me than the infield. I get to focus more on hitting."
In addition to his stolen bases, showing off that 80 MLB grade scale speed, Seymour has also scored four runs.
"Skip [Randy Ingle] told me I pretty much have the green light," Seymour said. "Whenever I feel comfortable go, unless he shuts me down. It's more of a when I'm comfortable, take the bag. Sometimes when I don't get on or don't do anything, I get mad at myself. I feel that once I get going, the whole team gets going."
Seymour is currently listed as the 30th ranked prospect in the Braves organisation.
The Florida State League is one of three Class-A advanced leagues in the minor league system. The league was founded in 1919, and has continued almost entirely uninterrupted to the present day. Most players in the Florida State League do not reach this level until their third or fourth year of professional play.
The 5'11", 165-pound Seymour was taken by the Miami Marlins with the 197th pick in round seven of the 2014 MLB Draft.