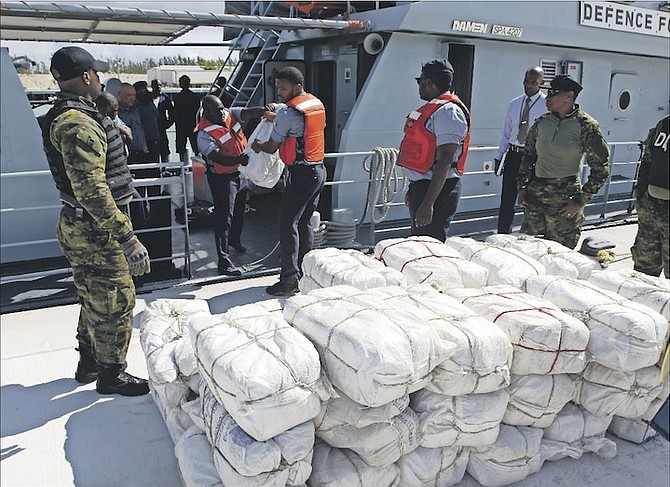 THREE men are in custody after the Royal Bahamas Defence Force seized more than 1,000 pounds of marijuana from a go-fast vessel Monday morning.
According to the RBDF, officers on HMBS Rolly Gray made a "hefty dent in the illegal narcotics supply" while on routine patrol in the southwestern Bahamas, in the area of Cay Lobos.
The RBDF vessel intercepted a 28-foot blue and white go-fast vessel, which was subsequently searched by Rolly Gray's boarding team. A large supply of contraband, believed to be marijuana was discovered on board.
The three men on board, two Bahamians and one Jamaican, were apprehended and their contraband seized. They were taken to New Providence where they arrived on Tuesday morning.
The drugs weighed just over 1,000 pounds with an estimated street value of over a million dollars, the RBDF said. The men and contraband were handed over to officers of the Royal Bahamas Police Force Drug Enforcement Unit for further processing.
The RBDF said the arrests are a result of the consistent efforts of the agency and its strategic intent to rid the waters of the Bahamas of illicit transnational activities.