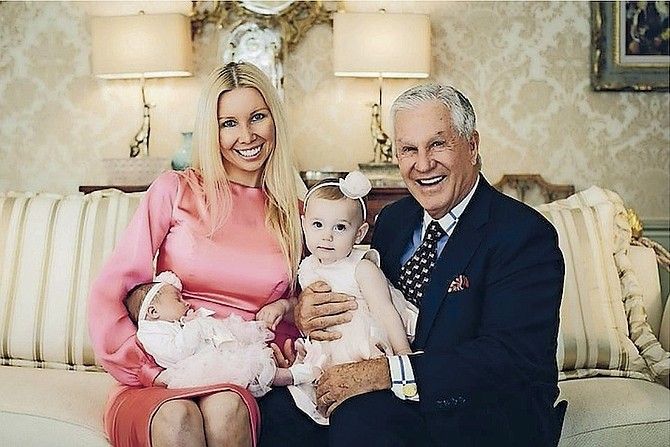 By AVA TURNQUEST
Tribune Chief Reporter
aturnquest@tribunemedia.net
AMERICAN president Donald Trump has proposed prominent San Diego developer and veteran industrialist "Papa" Doug Manchester for the post of US ambassador to The Bahamas.
The Nassau post has been vacant since 2011, with the most recent nominee Cassandra Q Butts having died as she waited more than two years to be confirmed to the post under the former Obama administration.
Ms Butts, 50, died in May last year, but was nominated for the ambassador post in 2014 by former US President Barack Obama. The confirmation was said to have been held up by Republicans in the US Senate.
If confirmed, the 74-year-old Trump supporter will serve as ambassador of the United States of America to the Commonwealth of The Bahamas, according to a statement issued by the US Embassy yesterday.
The statement read: "Mr Manchester is a leading industrialist with accomplishments on a national and international scale in telecommunications, radio broadcast, medical instrumentation, publishing, and real estate development.
"Since 1970, he has been chairman of Manchester Financial Group, which has multiple divisions including Manchester Grand Resorts and M Commercial Properties. He leads the Manchester Charitable Foundation and currently serves on the Board of Trustees of The Sanford Burnham Medical Research Institute.
"Mr Manchester earned a BS from San Diego State University," it added.
On the campaign trail in San Diego last year, Mr Manchester told Trump supporters at a rally in May that the then-presidential candidate was "the smartest man I know." He went on to tell the crowd that they had the chance to elect a capitalist to the White House.
In 2008, Mr Manchester donated $125,000 to support a ballot initiative, known as Proposition 8, blocking same-sex marriage in California, according to The New York Times.
The newspaper reported that the hotelier "donated the money to support the collection of signatures to qualify the initiative, which would amend the state's Constitution to prohibit same-sex marriage" for a vote later in 2008.
In 2015, the US Supreme Court ruled that same-sex marriage was legal nationwide.
Back in 2014, Brent Symonette, former minister of immigration foreign affairs in the Ingraham administration, told The Tribune that the confirmation delay of a US ambassador was indicative of "issues with President Barack Obama's internal politics" and not symptomatic of a strained relationship between the Bahamas and the US.
Mr Symonette, the newly elected St Anne's MP, was sworn-in as minister of financial services, trade and industry and immigration on Monday.
Speaking at a Rotary Club meeting in February, Mr Symonette suggested that a nomination was on the horizon, adding that there were rumours the appointee had already started house hunting in New Providence.