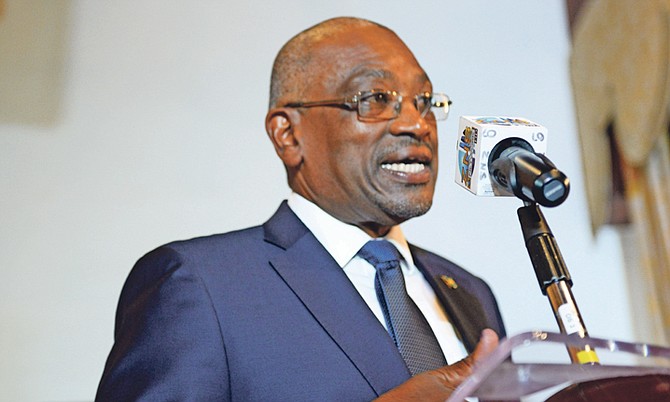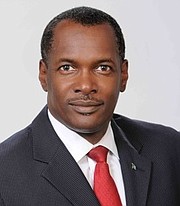 By SANCHESKA DORSETT
Tribune Staff Reporter
sdorsett@tribunemedia.net
PRIME Minister Dr Hubert Minnis yesterday assumed the Ministry of Works portfolio until Desmond Bannister can be officially sworn in next week, according Anthony "Ace" Newbold, president of the Bahamas Press Club.
Mr Newbold has been named as the prime minister's new press secretary, however he will not officially assume his duties until next Tuesday.
On Monday, 15 ministers took the oath at government house, 12 substantive ministers and three ministers of state.
Carmichael MP-elect Desmond Bannister was absent from Monday's ceremony because he was out of the country.
Mr Bannister returned to New Providence yesterday afternoon and will be sworn in at Government House on Monday, along with senators and parliamentary secretaries.

Mr Newbold said because the Ministry of Works is a "substantive portfolio" it cannot "be left hanging out there."
According to sources, there were official documents that needed to be signed immediately for "crucial projects" in the ministry that could not wait until Mr Bannister returned to the country.
"Desmond Bannister will be back in town shortly, but a portfolio like that you cannot leave hanging," Mr Newbold told The Tribune yesterday.
"It's a substantive portfolio that cannot be hanging out there so Dr Minnis assumed the portfolio until next week."
In a statement from Bahamas Information Services on Tuesday, it was revealed that the Cabinet ordered forensic audits of several government initiatives as well as audits of each government ministry.
The statement said if wrongdoing is uncovered, the law will take its course.
"It (Cabinet) decided that all ministers would conduct an audit within his ministry, including departments and agencies funded by the public purse, of persons hired on contract, their job title/position, salary and period of contract," the statement noted. "It would also be determined whether there are also contract persons attached to a project or projects funded by an international agency.
"It was agreed that where persons were hired with specialty skills who have been performing needed services, that every effort would be made to retain their services.
"Forensic audits will also be conducted on the Urban Renewal Department, the Bank of The Bahamas and BAMSI, among others.
"The Internal Audit (Department) of the Ministry of Finance will also be reviewing processes within ministries and departments to bring about greater efficiencies.
"The government is seeking to curtail unnecessary expenditure and the results of these audits will assist it in determining the way forward.

"Where persons are found to be in breach of the Financial Administrative & Audit Act, to have misappropriated public funds or engaged in unlawful activities, the law will take its course."
During the swearing-in ceremony earlier this week, the nation's new leader pledged that the government will be marked by "order and punctuality".
He further suggested that this administration will be one of less talk and more action.
There are 19 ministers in total at the helm of this country's government.
In May 2012, the Christie administration appointed a Cabinet of 21 - 16 ministers and five ministers of state. Three parliamentary secretaries were also appointed at the time.
Dr Minnis also explained his decision not to take on a substantive ministry or portfolio, aside from those items which fall under the Office of the Prime Minister. He was previously minister of health under the former Ingraham administration.
"I made this decision in order to perform my primary constitutional duty as prime minister. This primary constitutional duty is the coordination and oversight of the Cabinet of the Bahamas.
"And as I have repeatedly noted, my government will be one of collegiality, collective responsibility and collaboration. I pledge also collaboration and regular consultation with parliamentary colleagues," Dr Minnis said on Monday.