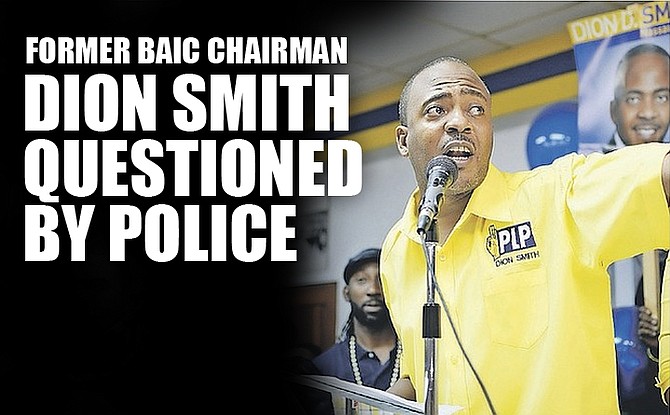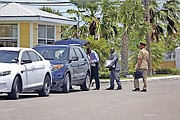 By SANCHESKA DORSETT
and RICARDO WELLS
Tribune Staff Reporters
DION Smith, the former deputy speaker of the House of Assembly, was yesterday taken into custody in connection with an ongoing probe into "theft by reason of employment" at the Bahamas Agricultural and Industrial Corporation, which he headed under the Christie administration.
According to Assistant Commissioner of Police Clayton Fernander, the former Nassau Village MP turned himself over to authorities shortly after 4pm in the presence of his attorney, Wayne Munroe, QC.
ACP Fernander at the time could not say how long police intended to keep Mr Smith in custody, but said he was assisting officers with their investigations into the matter. However, another senior police official said it was "more than likely" Mr Smith would be held overnight.
This comes as police have released the eight BAIC employees who were being questioned in connection with the investigation earlier this week, all of whom are also being represented by Mr Munroe.
On Tuesday, police said seven employees were taken into custody, however yesterday police said another worker was also questioned and later released.
Last night Mr Munroe warned that the arrest and subsequent questioning of Mr Smith without any "merit of a charge" sets a "dangerous precedent" for government officials.
Mr Munroe indicated that shortly after being taken into custody, Mr Smith gave a statement and was taken by officers to his headquarters and then to his home.
The attorney added that subsequent to this, Mr Smith was transported to the Cable Beach Police Station where he was expected to spend the night.
"This is very, very concerning," Mr Munroe, a member of the Progressive Liberal Party (PLP), said. "This is a very sad step we are taking politically in this country because it sets a precedent where an outgoing government could face this course of action without any firm evidence.
"Can you imagine an outgoing prime minister having to face this sort of treatment as a new government looks to be satisfied on matters of finance?"
Mr Munroe told The Tribune that Mr Smith, who was reported to be out of the country on vacation since late last week, returned to the capital on Tuesday.
Mr Munroe said his client at the time of his return offered to assist officers in their investigations but was informed that his help was not needed at the time.
He added that Mr Smith followed developments in the investigation closely and once contacted Thursday, he immediately surrendered himself to police.
"Mr Smith in his capacity as chairman at BAIC could not handle any money and has nothing to hide," Mr Munroe also said.
"He has remained accessible since Tuesday . . . but this entire situation has come across politically motivated."
Mr Munroe however, applauded the actions of senior law enforcement officers who interviewed Mr Smith Thursday.
He said the officers involved yesterday were in stark contrast to the officers that "swarmed" BAIC offices brandishing firearms.
In an interview with The Tribune yesterday before Mr Smith's arrest, Mr Munroe said the group was released, but added that police could file charges at another date "if they so choose."
Mr Munroe also said as far as he knew, his clients did not remove anything from the property of BAIC that belonged to the agency.
The employees were taken into custody earlier this week after reports that some items were allegedly taken from BAIC on the night of the election and the day after.
A source close to the matter told The Tribune that police suspected the employees of allegedly attempting to destroy files and remove evidence from BAIC that could possibly show funds were being misappropriated.
However, Mr Munroe said there was no evidence of anything being stolen and to his understanding the employees only removed personal items from the building. In fact, Mr Munroe said it was also his understanding that an inventory check was conducted and "nothing was found to be missing."
"The persons were released Wednesday evening and there have been no charges to date but that doesn't stop police from doing it later," Mr Munroe said early Thursday.
"There were never any allegations of money being stolen, when I went to BAIC the officers were on the premises with guns. I was told that it was about a television and a CPU and some files. I am also made to understand that the permanent secretary in the Ministry of Agriculture did an inventory check and everything was there. An outgoing political appointee has the choice to move his property because if you leave your stuff it might end up in the garbage."
Mr Munroe also denied rumours that Mr Smith fled the country after the allegations. He said Mr Smith was previously out of the country with his family.
"I have represented Mr Smith and his family in respect to various matters over the years. He has not been questioned by police but if they wish to see him I will represent him, but I don't see what they would want to see him about," Mr Munroe said before his client was taken into custody.
"I think it would be obvious that when you get beat, you take your things or they will be thrown out. I thought it would be obvious that the outgoing chairman would take their stuff if they get beat. Some of our colleagues packed up a week before the election because they did not want to go back to their offices if they lost. If you are not packed up before then you have to move election night or your stuff will get thrown out. We lost. He lost," Mr Munroe said.
Around 1.30pm Thursday, investigators led by ACP Fernander were seen leaving the Old Trail Road offices of BAIC.
It is understood that during their time inside the facility, investigators spoke to several employees across several departments.