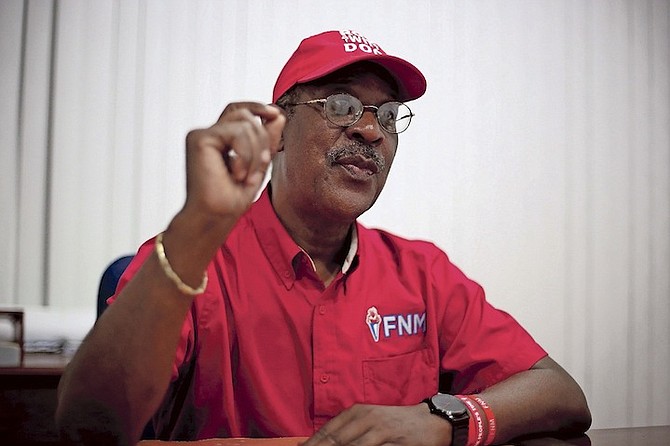 By KHRISNA VIRGIL
Deputy Chief Reporter
kvirgil@tribunemedia.net
FREE National Movement Chairman Sidney Collie yesterday told The Tribune that the Senate appointments have been identified and those selected by the governing party to fill 13 of the positions have been notified.
However, the remaining three, which are left for selection by the Progressive Liberal Party have yet to be finalised because there needs to be consultation with Prime Minister Dr Hubert Minnis and the leader of the Official Opposition.
While former Deputy Prime Minister Philip "Brave" Davis has assumed the post of PLP leader following the resignation of former Prime Minister Perry Christie from the position, the Cat Island, Rum Cay and San Salvador MP-elect has not been officially sworn in to lead the minority party in Parliament.
The Official Opposition leader is expected to be sworn in at Government House today while senators are scheduled to be sworn in on Monday.
Two names, Kay Forbes Smith and Dr Mildred Hall Watson, have been suggested as contenders from the FNM for appointment to the Upper House, The Tribune was informed.
Both women are long time supporters of the party.
Attorney General Carl Bethel, Minister of State for Grand Bahama Kwasi Thompson, and Labour Minister Dion Foulkes are also expected to make up the Senate.
PLP Chairman Bradley Roberts said Wednesday that Mr Davis would now shoulder the leadership responsibilities for the Official Opposition moving forward.
Apart from Mr Davis, only Glenys Hanna-Martin in Englerston, Chester Cooper in Exuma and Ragged Island and Picewell Forbes in South Andros successfully contested seats in last week's general election.
Sources within the PLP suggested to The Tribune that some consideration was for Mrs Hanna Martin to lead the party within the House of Assembly, but officials thought it best to rally behind Mr Davis as the party looks to "regain its footing."
That trusted source added that the party would look to address its ongoing issues behind the scenes in the build-up to a convention and not through the media.