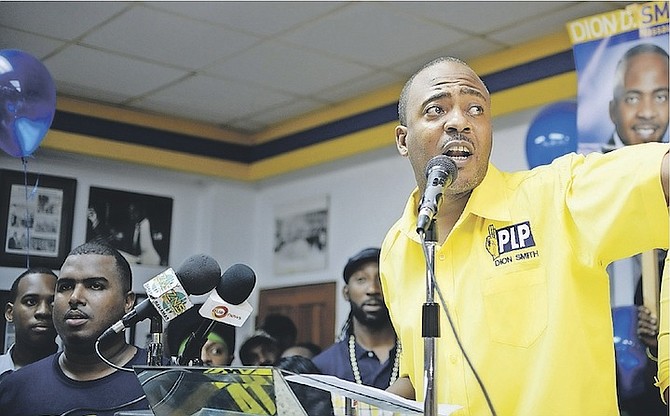 By RICARDO WELLS
Tribune Staff Reporter
rwells@tribunemedia.net
DION Smith was released from police custody without being charged on Friday as investigations into alleged "theft by reason of employment" at the Bahamas Agricultural and Industrial Corporation continued.
Mr Smith was appointed as executive chairman of the organisation under the Christie administration.
The former deputy speaker of the House of Assembly was the ninth person arrested, questioned and released in connection with the matter; however, no formal charges have been brought against anyone.
On Tuesday, police said seven employees had been taken into custody and, on Thursday, police said another worker was also questioned and later released. The employees were taken into custody after reports that some items were allegedly taken from BAIC on the night of the election and the day after.
A source close to the matter told The Tribune that police suspected the employees of allegedly attempting to destroy files and remove evidence from BAIC that could possibly show funds were being misappropriated.
According to officers, Mr Smith, the former Nassau Village MP, turned himself over to authorities shortly after 4pm on Thursday in the presence of his attorney, Wayne Munroe, QC. Mr Munroe has maintained that there was no evidence of anything being stolen and to his understanding the employees only removed personal items from the building.
Mr Munroe said it was also his understanding that an inventory check was conducted and "nothing was found to be missing".
When contacted yesterday, Mr Smith said he did not want to comment on the matter.
Meanwhile, his attorney has raised questions over the arrest, suggesting it was politically motivated.
"When you have a situation that the only individuals arrested are the ones with PLP affiliation, and if you are talking about items that you claim to be missing from an office in which loads of people have access - everyone - including the FNM supporters ought to have been arrested . . ."
Last week, Mr Munroe told The Nassau Guardian that his client decided to watch the May 10 general election results at BAIC last Wednesday and reportedly brought his speaker and television to the building.
He also claimed that the former MP and several BAIC workers packed these items and other personal belongings after Mr Smith learned he had lost his re-election bid.
Mr Smith was out of the country for a few days and returned last week.
Investigations are continuing.