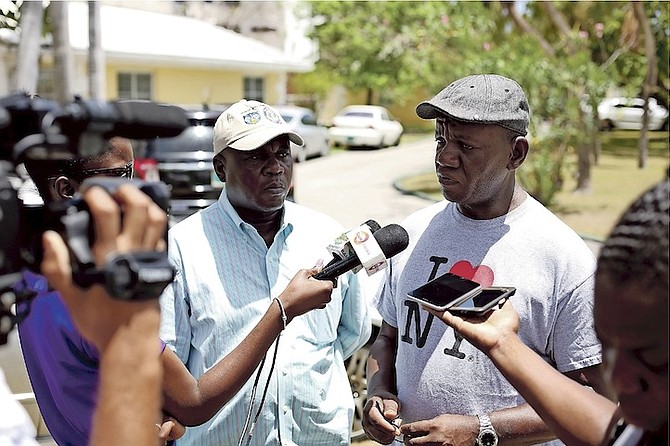 By RICARDO WELLS
Tribune Staff Reporter
rwells@tribunemedia.net
THE body of a Caucasian man discovered after a fire at a condominium in Cable Beach on Saturday is believed to be that of Bahamian-based fraudster, Derek Guise Turner.
Assistant Commissioner of Police Stephen Dean said the man also had "lacerations" on his wrists.
While circumstances surrounding his death are unclear, The Tribune understands that the New Zealand-born financier barricaded himself inside his residence at Ocean Place, near the home of former Prime Minister Perry Christie, over the weekend before setting fire to it.
Sources close to the situation have confirmed that the 68-year-old, who served seven and a half years in prison in the United States after pleading guilty to federal charges of wire fraud, was allegedly involved in a dispute over unpaid rent with the property's landlord.
According to reports, shortly after 9am, officers from Police Fire Services received news of a fire at a building on West Bay Street, Cable Beach. When firefighters arrived at the scene, they saw smoke coming from a unit in the building. The officers forced their way in and extinguished the fire.
"We don't know what occurred as yet. We want to find out the motive, how the male got injuries to himself and how the fire has started," ACP Dean told reporters on Saturday.
Before his body was discovered, neighbours were concerned that Turner had intentionally set the blaze and asked the police to protect the building in case he intended to burn the whole complex, The Tribune understands. However, shortly afterwards, his body was found lying on the living room floor. He was pronounced dead at the scene.
Turner emigrated to the Bahamas from Australia and began his "hedge fund trading" activities from Nassau in March 2000. But he was detained by the US federal authorities in Long Island on April 16, 2005 over an alleged money laundering complaint.
After returning to the Bahamas on his release from prison in 2011, Turner spent much of the next two years attempting to reclaim his former Bahamas-based assets through the Supreme Court and battling among others the family of the former Governor General Sir Milo Butler, whom he defrauded of more than $6.25m. Mr Turner's former Paradise Island and Bay Street properties were sold to pay off his creditors and the Court of Appeal dismissed his application to appeal.
US court documents obtained by Tribune Business at the time revealed that a scheme operated by Turner defrauded several local businesses in the Bahamas out of millions of dollars. His sentencing documents, filed in the US district court for eastern New York, listed "victims" collectively owed $55.374 million.
Police have not formally identified the deceased, awaiting notification of next of kin. An autopsy will be performed to determine the exact cause of death. Investigations are continuing.