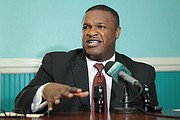 By KHRISNA VIRGIL
Deputy Chief Reporter
kvirgil@tribunemedia.net
IF the Free National Movement wants to remain in office, former Bahamas Christian Council President Rev Dr Ranford Patterson yesterday declared that the governing party must listen to the church.
Speaking to a packed church of FNM supporters, Rev Patterson said the greatest mistake anyone could make was to go against God.
He further pointed to the failed gaming referendum under the former Progressive Liberal Party government and that administration's decision to go against the "no" vote on January 28, 2013.
He suggested the former PLP administration had lost its political footing because the voice of God was ignored.
"The greatest mistake that you can make is to go up against God," he said during the FNM's service of thanksgiving at the Cousin McPhee Cathedral, the church he heads.
"You can't tell me the voice of the people is the voice of God only on some things.
"If the voice of the people is the voice of God that means if a referendum is held when the people speak, God has spoken. God knows what to do.
"I said it then and I will say it now, God will have the last say. So I am going to encourage you to always recognise that God is still alive in the Bahamas."
He also said: "If you want to stay in power, listen to the voice of the church. Listen to the voice of God."
While he did not directly speak to former Prime Minister Perry Christie's controversial "God can't stop me now" comments, many in the audience remembered the controversial remark.
Nearly two weeks before the general election, Mr Christie joked during a mass rally in Exuma that things were going so good that "God can't stop me now" as the event was plagued with power outages, rain and microphone issues.
"We are going to in this next term, turn Exuma into a fine example of what should happen," he said, as his microphone cut out before scores of supporters at a rally on Saturday night.
"Listen, it going so good, God can't stop me now," he continued, after tapping the microphone, to cheers and laughter.
The comments triggered a wave of backlash.
Days later, he sought to explain the context in which the comment was made and questioned how anyone could dare to doubt his faith or suggest that he believed he was mightier than God.
Mr Christie said his comment was in "advocacy" to God not to let his speech come to an abrupt end, adding that he thought there had been a power failure while he was on stage speaking to supporters.
A passionate Mr Christie seemed to attribute the immense backlash he received over the remarks to politics, saying it has become clear that both the PLP and the Free National Movement will compete in a way that is not helpful to the country.