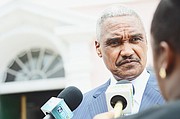 By KHRISNA VIRGIL
Deputy Chief Reporter
kvirgil@tribunemedia.net
WHILE throwing his full support behind newly appointed Official Opposition Leader Philip "Brave" Davis, former Tall Pines MP Leslie Miller said he has "no interest right now" in politics.
However, Mr Miller said he would make an exception to be in "the vanguard" ensuring that the newly elected Free National Movement (FNM) government does what is in the best interest of Bahamians.
Speaking to The Tribune, the former member of Parliament lamented the Progressive Liberal Party's (PLP) landslide loss at the polls because of voters' displeasure with the party's leadership, but he insisted that the voter base of the now opposition party has not changed and will aid it in a victory in 2022.
On May 10, the PLP was dealt a devastating blow after securing only four seats in the House of Assembly to the FNM's 35. It was also the first time that a prime minister had lost his seat. Former Prime Minister Perry Christie had been elected to represent Centreville, formerly known as Farm Road, for eight consecutive elections. However in the 2017 general election, he lost the seat to a newcomer to Parliament, Reece Chipman, by four votes.
On the night of May 15, Mr Christie stepped down as leader of the PLP forcing the Cat Island, Rum Cay and San Salvador MP -elect to take over the leadership of the defeated party.
Mr Davis was formerly the PLP's deputy leader.
"I have no interest right now in politics except to be in the vanguard to see that they (the government) do what is in the best interest of Bahamians. (Politics) is the last thing on my mind right now," Mr Miller said.
"I believe Mr Davis will do a good job as party leader and I expect those with positions in the party to assist him. We have a very small minority in Parliament with four members, but you know the opposition has to do its job and the government has to do their jobs."
He continued: "Right now, I think the focus of Bahamians everywhere is seeing to it that the present government is successful in its efforts to try to execute its mandate because their success is our success. Likewise if they fail we fail as a people and we cannot afford to fail. I am very concerned.
"After (former Long Island MP Loretta) Butler-Turner did what she did, who would have thought that Dr Minnis would have become prime minister? Now look at her and the rest of them who went after him. (They have been) obliterated. But that's just how life is."
Asked if he believed it was possible for Bahamians to again see the PLP as an option to lead this country, Mr Miller said the party's base hasn't diminished, suggesting that it could return to the helm of governance.
"Always remember one thing, the PLP has a base of about 40 per cent. I don't think that will change much.
"A good example of that is in Tall Pines. Almost 1,200 voters didn't go to the polls.
"We lost by about 250. A lot of the people didn't go to the polls. They keep calling and keep saying they apologise for not voting. They didn't want to vote for the leadership and what have you. So it's not a case of the support not being there.

"The loss this time was on a greater scale and that's because the losses were close in most areas and people just decided that they wanted a change," Mr Miller said.
Mr Miller has said he was not surprised that the PLP was "wiped out" by the FNM because "the hate" for Mr Christie "was strong" throughout the country.
After suffering the agonising defeat at the polls, Mr Miller said Bahamian people do not vote parties in, they vote them out. He previously said the PLP did not fulfil its promises to the people and "so we had to go."