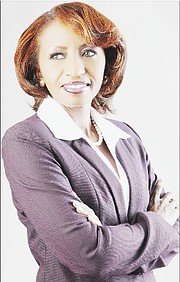 By MICHELLE MILLER
What matters most is not the size of the challenge you face, but the size of your resilience to face that challenge fearlessly.
Constant change and consistent challenges are the way of life. As such, the only thing predictable about life is its certain unpredictability.
This inherent unpredictability is perhaps what makes life the ultimate, most exciting adventure. Imagine that behind every obstacle there is an opportunity. And by going through the process of changing and growing, you can build the capacity to overcome those obstacles and explore new opportunities.
For this reason it's a good idea to see life as a journey where you learn to take the bitter with the sweet. Some challenges will most certainly drive you forward, while others may hold you back. In any event, this steady serving of challenges reminds us that while we each have the power within to bounce back, we can only do so if we build our resilience.

This building is an internal process where you strengthen your inner stamina of courage and confidence. Resilience speaks to your flexibility to stretch beyond your comfort zone; trusting and relying on yourself. Living an empowered life is less about what you can buy and more about the quality of resilience you can build to bounce back from setbacks.

Life is huge. And change is at the focal point of our living. Anything can happen to anyone at any time. As such, it makes sense to proactively build your capacity to meet life's changes with confidence.

Building resilience in advance is a gift that you give to yourself. Whether you are prepared or not, your life will change. It does so with or without your agreement. Nothing will hit you harder than life itself. Resilience teaches you that it doesn't matter how hard you're hit. What matters is your capacity to take the hit, get back up and keep on moving.
Building your resilience enables you to more assuredly meet the storms of life. Everyone of us needs to be more resilient. When life throws you a storm, we are all affected, whether directly or indirectly. As Bob Marley said, "When the rain falls, it don't fall on one man's house top."
Life has unique ways of reminding us of our sameness. Storms and other such natural disasters demonstrate that we are all in the same boat.
Leader to leader, recognise that it's only through courage and commitment that you can build your resilience to bounce back with confidence. The stronger your resilience, the better you can meet your life's challenges.
Today, as you commit to building your resilience, you move yourself closer to living an empowered life. Yes, you definitely can do it.
What do you think?

Please send your comments to coaching242@yahoo.com or 429-6770.
• Michelle M Miller is a certified life coach, communication and leadership expert. Visit www.talktomichellemiller.com or call 1-888-620-7894; mail can be sent to PO Box CB-13060